West Seattle jogger leaves sidewalk message after alleged attack


SEATTLE -- A woman told police she was attacked while she was jogging in the 5400 block of California Avenue SW in West Seattle early Wednesday. She left a warning on the sidewalk there later.

The woman told police that as she was jogging, a man she did not know came out of the "shadows" and grabbed her. She said he grabbed her waist, pulled her down and began fondling her. When she screamed, he let go of her and fled. The suspect was last seen heading east on SW Brandon Street.

The woman told officers that the man didn't speak as he was grabbing her, nor did he react to anything she said to him.

The alleged victim left a message in chalk on the sidewalk. The warning stated that at 5:20 a.m. a sexual assault took place at the exact spot.

It goes on to read:

"The man ran away! Was not located by police. I was out for my a.m. run in our neighborhood. Be AWARE! WARN YOUR FRIENDS."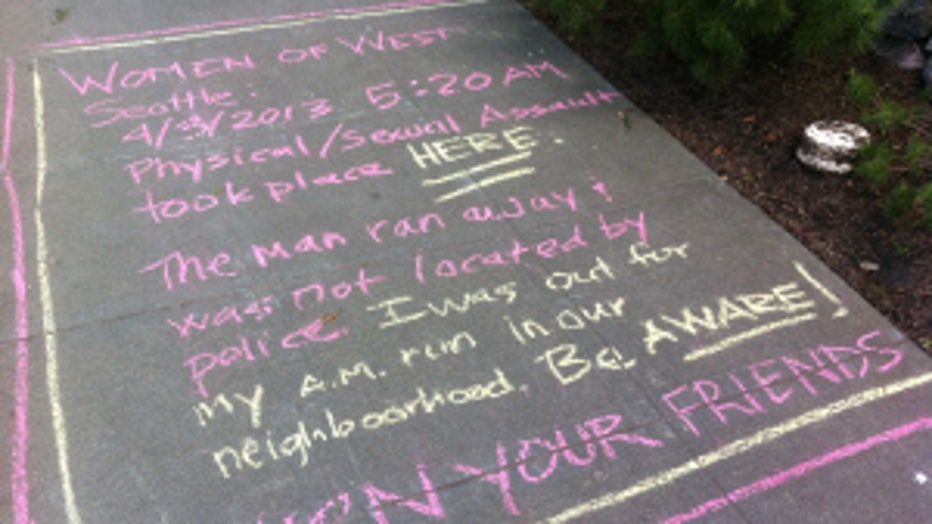 "She says he came out of the shadows" and grabbed her from behind, said Seattle police spokeswoman Renee Witt.

"That is the worst, worst, worst-case scenario; you have no defensive power from behind," said self-defense expert Jordan Giarratano.

Giarratano, with Fighting Chance Seattle, said the best thing to do in that situation is to find a way to face your attacker.

"Whether you are laying on the ground, up against the wall or standing, your hands go straight up like  a windmill, turn around try to get your whole body to turn around," said Giarratano.

Giarratano said this gives a victim a better vantage point to fight back and survive.

"You are going to react immediately, no pausing, no planning, violently be as loud as you can, breathe out, scream and push."

Police say that's exactly what the jogger did, scaring off the suspect. But it's what the victim did after coming back to  scene to write a warning that has Tracey Spenser amazed.

"It was a very brave thing to do to come back and think about people," said Spenser.

That bravery is making a difference, stopping people in their tracks who now say they will run in numbers.

Experts advise that if you like to run or walk listening to music, make sure you have one of your ear buds out so you can at least hear what is going on around you.

The suspect is described as 5-foot-9 wearing a dark hoodie and dark pants. If anyone saw or heard anything unusual in that area at around 5:20 a.m Wednesday morning, call Seattle police.