'We're ready to strike,' grocery workers say


PIERCE COUNTY -- More than 20,000 grocery checkers, baggers and other employees voted to authorize a strike in protest of the latest contract offer from their employers, making long lines and un-stocked shelves a very real possibility at area grocery stores.

United Food and Commercial Workers Local 367 in Tacoma was the last area union to vote to authorize an area-wide strike Thursday morning. More than 98 percent of union members voted to strike if demands such as continued health coverage and above minimum-wage pay aren't met, union leaders said at a press conference Thursday.

The union has not yet announced a strike. Once a strike is announced, workers and employers have 72 hours of bargaining before workers walk out of stores.

Four major grocery stores -- QFC, Safeway, Fred Meyer and Albertson's -- would be effected in a strike.

Union members said they have been in contract negations with grocery store employers and Allied Employers, the company representing the business owners at the bargaining table, since March. Members say the latest contract proposal cuts healthcare for thousands of employees, reduces holiday pay, removes guarantees above minimum wage and freezes the lowest worker salaries.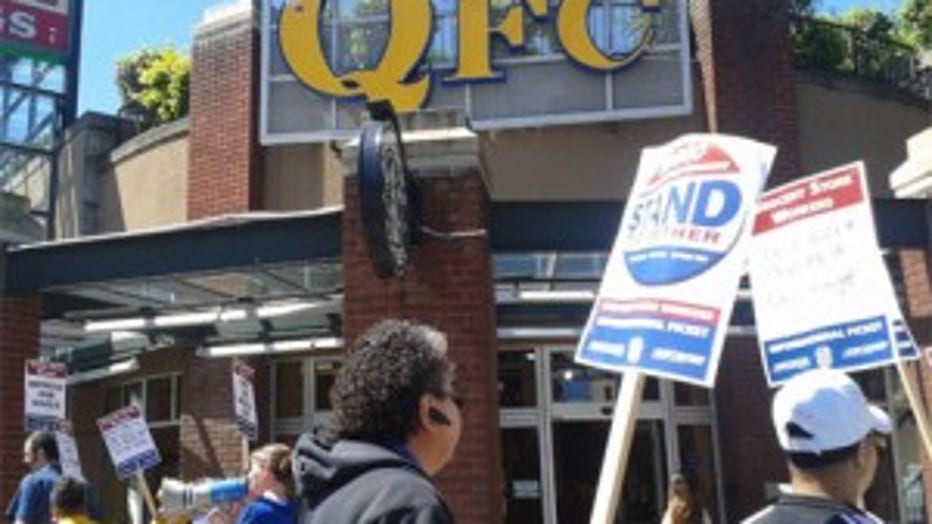 "We've been at this (negotiating) for about six months," secretary-treasure of the United Food and Commercial Workers Local 367 union Daniel Comeau said.

Scott Powers of Allied Employers  said an authorization vote on a strike is not unusual. It's the next 72 hours following a strike decleration and the discussion that occurs that will make a big difference.

"The important thing is that we get back to the bargaining table and do the hard work of putting a negotiated settlement together," Powers said. "The employers are focused on reaching agreement on a fair contract that is in the best interests of their associates, customers and businesses."

The union has set up a "Strike Alert Service," giving shoppers the opportunity to receive a text once their local grocery store goes on strikes. Shoppers can also sign up for email alerts at standwithourcheckers.com.