We don't want no stinkin' umbrellas
SEATTLE -- Want to be cool in Seattle? Then don't use an umbrella. Being wet is part of that "cool" and many Northwesterners take pride in braving the wind and rain without one.

Many long-time locals say it's a quick way to tell who is from here and who is not.

But why not use an umbrella?

Q13 News Meteorologist M.J. McDermott says there could be a couple of reasons for the lack of the rain shades here in Rain City. "Rain isn't often as hard as it in Chicago or New York City. We usually get drizzles that can go on for a long time," said McDermott. "Then there's the wind that comes with the rain. That means umbrellas turning inside out, making them useless."

It could be how we get rain versus the rest of the country. In much of the U.S., the rain can come in violent storms that bring lightning, thunder and even tornadoes.

Seattle gets a yearly average of just under 37.5 inches.

Compare ours with New York City which gets a whopping 46.23 inches of rain a year.

Even Portland gets more than we do. They average about 44 inches each year.

But still, why is it different here? It was a question we pondered after Q13 News anchor Travis Mayfield told us Monday morning about an umbrella store at Pike Place that's shuttering its doors.

<<<VIDEO FROM
MONDAY>>>

We spoke with Jodell Egbert,  the owner of Bella Umbrella, who says she's not sure why people here don't use umbrellas. For her, her creations are more than just functional but she says that unlike umbrellas you can pick up at the drugstore, her's are made to last.

"We're the only ones in the country actually making umbrellas," said Egbert.

She says that part of the reason she closed up shop here was the relentless insistence that no respecting person here would use an umbrella.

"Every day somebody would come in and tell me it was stupid to have an umbrella store in Seattle because Seattleites don't use umbrellas. It made me feel bad," Egbert said in an interview with our news partners at the Seattle Times.

Comments on the company's Facebook page tell the story. Most were sad Jodell's store was closing.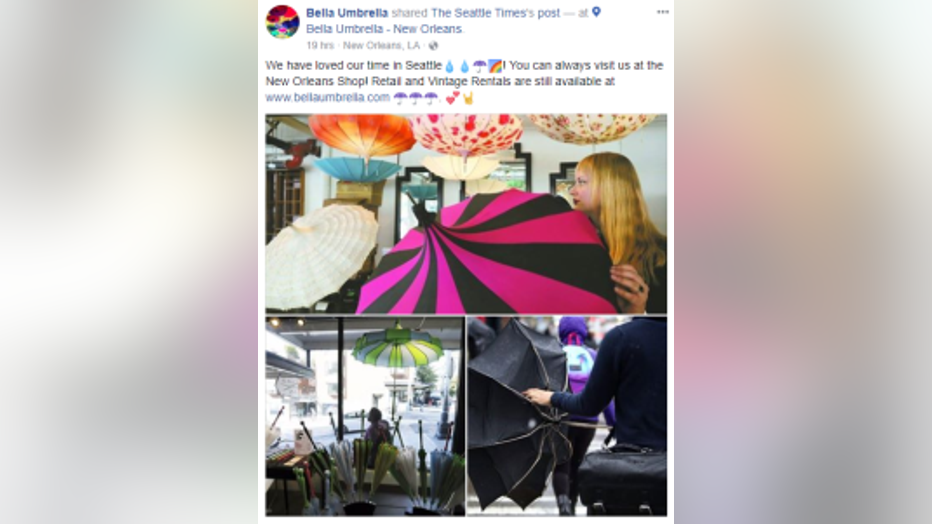 Bella Umbrella Facebook Page


More evidence that we're not an umbrella town, we talked with Seattle-based REI who told us they sell "incrementally more" rain gear here in the Northwest than the rest of the U.S., in fact, they sell "on average double digits over other regions across the country," according to an REI spokesperson.

But the fact remains, there is no love affair between the natives and the bumbershoot.

We're also a very outdoorsy city which means people don't have a problem getting a little wet here and there. And that could contribute to that feeling of a "cool factor."

Cool or not, convenience or not, most in our neck of the woods just won't often use an umbrella.

So how do you winter? Coat, umbrella or just take it as it comes? We want to hear what you have to say.