WATCH: Police reconstruct Sound Transit crash that killed two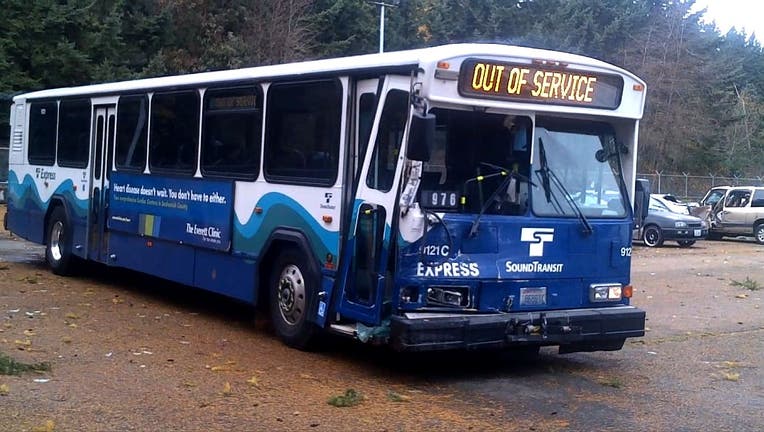 article
KIRKLAND -- For the first time, we're getting a look at what might have happened the night of a tragic bus accident that killed an elderly couple last May.

The driver of the Sound Transit bus claimed the brakes failed, but Q13 Fox News has obtained video of state patrol detectives reconstructing the crash in which investigators say contradicts the driver's story.

Investigators put the wrecked bus through rigorous tests; they even recreated the crash scene trying to piece the accident together. Investigators found that the bus's brakes were working just fine.

The Washington State Patrol's Major Accident Investigation Team recreated the same circumstances that resulted in the bus crash that killed Robert and Elizabeth Rotta who were passengers in their son's Ford SUV. Their son Kendall survived the impact.

"One of the first things we do is look at the mechanics of the bus itself," said Lt. Shave Nelson. "Making sure that the brakes are working properly, steering feels proper."

Detectives tested the brakes and troopers say their videos show that they were working normally.



In the accident report, bus driver Aleksandr Rukhlin says he saw the red light but told investigators the brakes didn't work.

The bus traveled nearly ¾ of a mile before passengers helped bring it to a stop.

"The detectives determined neither the vehicle nor environmental factors contributed to the cause of this particular crash," said Nelson.

"I feel really bad for the driver. I've no ill feelings towards that driver," said Cameron Anderson who was on board the Sound Transit bus when it crashed.

In all, 24 people were on the bus at the time of the accident. Reports indicate that several riders told police they never felt the bus slow down before impact.

"From the moment I was up there, I kind of felt he was alert and conscious and that it wasn't the bus," said Anderson. "I do believe it was driver error."

The state patrol is recommending King County prosecutors charge Rukhlin with two counts of vehicular homicide, one count of vehicular assault and one count of hit and run death.

The Rotta's family attorney Chris Davis says the driver should be charged.

"We believe the conduct here certainly meets the statutory definition of the charges," said Davis. "The charges require showing recklessness and severe injury or death and we believe that has been met in this case."

Q13 Fox News tried reaching Rukhlin for comment but so far he hasn't called back.

Now this case is in the hands of King County prosecutors, and that's on top of a civil suit already filed by the Rotta family against Rukhlin and the company he worked for, First Transit.