Washington Gov. Inslee delivers State of the State speech
OLYMPIA, Wash. - Washington Governor Jay Inslee delivered his annual State of the State speech on Tuesday.
Gov. Inslee's speech began at 12:00 p.m. Pacific Time, and can be watched in its entirety in the player above.
What lies ahead in 2023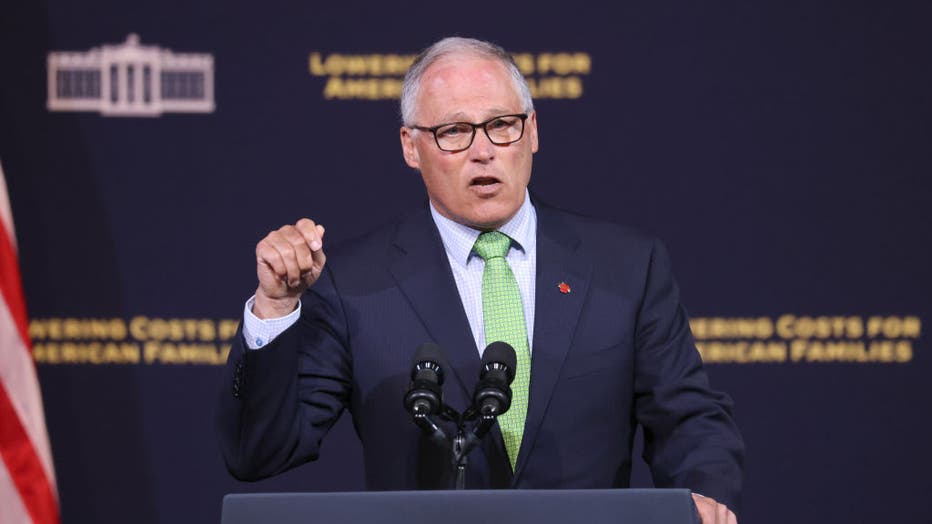 (Photo by Karen Ducey/Getty Images)
According to the governors' website, housing, homelessness and behavioral health are some of Inslee's top priorities in his budget proposal for the 2023 legislative session.
Beginning Feb. 1, 2023, the new 'Working Families Tax Credit' will become available. This new tax credit will give qualifying families and individuals up to $1,200.
In 2022's State of the State presentation, Gov. Inslee called on state lawmakers to take action on a multitude of issues during their 60-day legislative session, including addressing the homelessness crisis, helping children impacted by the ongoing COVID-19 pandemic and taking more steps to address climate change.
"We must act according to what this moment demands," he said in his written remarks in 2022. "We must be big. We must be bold. We must act at a scale commensurate to our challenges because of the multiple, urgent crises facing our state."
Inslee delivered the speech in the Capitol's state reception room, which was limited to a handful of attendees and media who had taken COVID-19 tests, and it was broadcast by TVW, the state's government affairs channel.
2022 STATE OF THE STATE RECAP: Gov. Inslee calls on Washington lawmakers for 'bold' action in State of the State speech
Check back with us at around 12:00 p.m. Pacific Time to watch the governor's State of the State speech live.