Washington Working Families Tax Credit: See if you qualify for up to $1,200
OLYMPIA, Wash. - Washington residents can now apply for a new annual tax credit that provides payments of up to $1,200 for low-to-moderate income individuals and families.
According to Gov. Jay Inslee's Office, about 400,000 households will qualify for the Washington Working Families Tax Credit (WFTC).
About one in three children in our state could benefit, according to Seattle Mayor Bruce Harrell's Office.
"It's our priority to improve affordability and take on rising costs of essential goods and services like groceries, childcare, and more," said Mayor Bruce Harrell. "The new Working Families Tax Credit means putting up to $1,200 back into the pockets of Seattle families, real dollars that will make a real difference for those in need. We're committed to partnering with the state to share this benefit in tandem with City services, helping connect residents with discounts and supportive resources to meet them where they are and provide paths toward economic security."
Inslee signed the bipartisan legislation in 2021 to implement and expand the tax credit.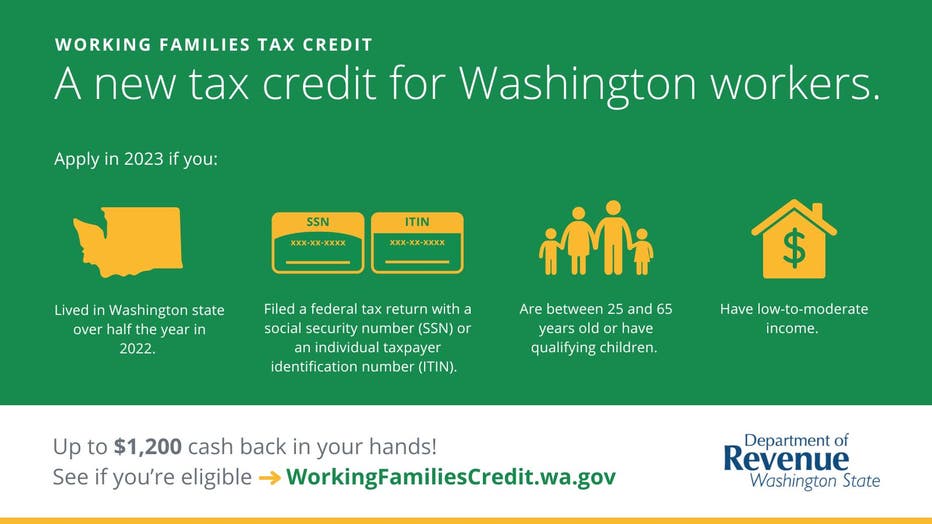 (Department of Revenue Washington State)
Individuals and families are eligible if they meet all these requirements, according to the Washington Department of Revenue:
Have a valid Social Security Number (SSN) or Individual Taxpayer Identification Number (ITIN).
Lived in Washington a minimum of 183 days in 2022 (over half the year).
Are at least 25 and under 65 years of age OR have a qualifying child in 2022.
Filed a 2022 federal tax return.
Eligible to claim the federal Earned Income Tax Credit (EITC) on their 2022 tax return (or would meet the requirements for EITC but are filing with an ITIN).
Meet the income requirements.
Applications for the 2022 tax year will be accepted from Feb. 1 through Dec. 31, 2023.
Undocumented immigrants and mixed status families are eligible for the WFTC.
Free assistance with the WFTC application is available through United Way of King County's Free Tax Prep program, which offers assistance at 16 sites across King County, including at El Centro de la Raza.  A full list of organizations offering assistance with the application can be found here.