Washington woman crochets cozies for tortoises and now snails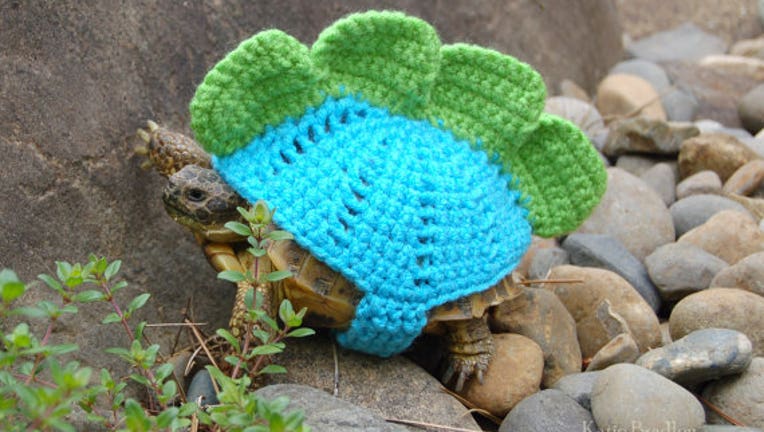 article


VANCOUVER, Wash. – It started with a photo of a tortoise with a doily on its shell, lead to a family joke and now Katie Bradley has sold more than 1,400 crocheted cozies for tortoises, turtles and even snails.

"We had a good laugh, and I posted a picture on one of the tortoise forums, and then requests started coming in for me to make cozies for other people's tortoises," said Bradley.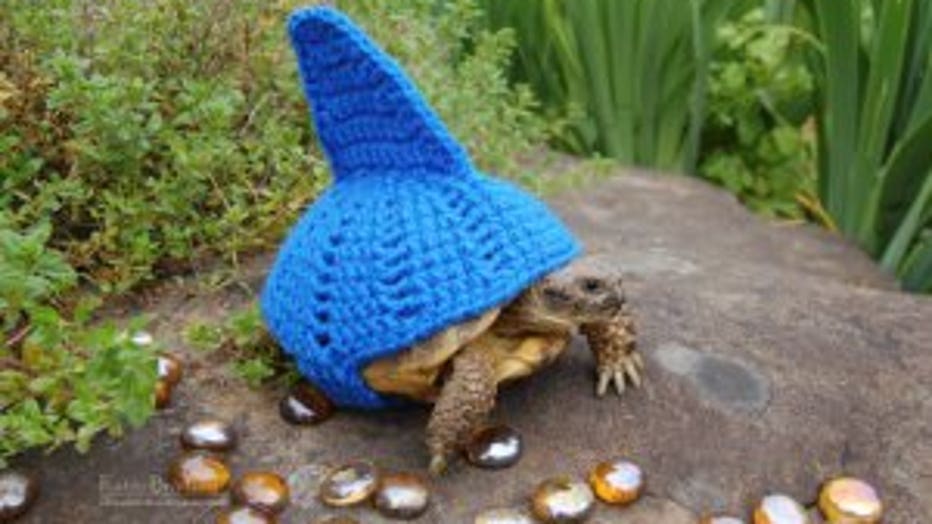 Photo courtesy of Katie Bradley


She's been crocheting the cozies from her Vancouver, Washington area home since 2012 and says the demand has only increased as more people see her online Etsy store.

"At this point I am so busy making them that the wait is over a month, but my clients don't seem to mind, since they know they are getting a unique, well-made handmade item," said Bradley.

While some worry that Bradley's cozies may hurt the critters, she says she reminds everyone who buys one that they aren't mean to be worn constantly.

" should be used under supervision, shouldn't be used near a heat source, and because tortoises are cold-blooded, obviously don't replace an external heat source," she said.  "Tortoises absorb UVB through the skin on their legs and head, so as long as they don't wear a cozy all the time, it won't hurt the tortoise to have a stroll in the yard dressed as a dinosaur, a pig, a shark, or a cheeseburger."

Bradley admits it's a random idea.  But she says the cozies actually serve a purpose for those who own pet tortoises.

"A tortoise's shell blends in with the grass, dirt and leaves awfully fast, so having a bright-colored cozy on that shell makes it much easier to keep track of," said Bradley.

And now there are the snails.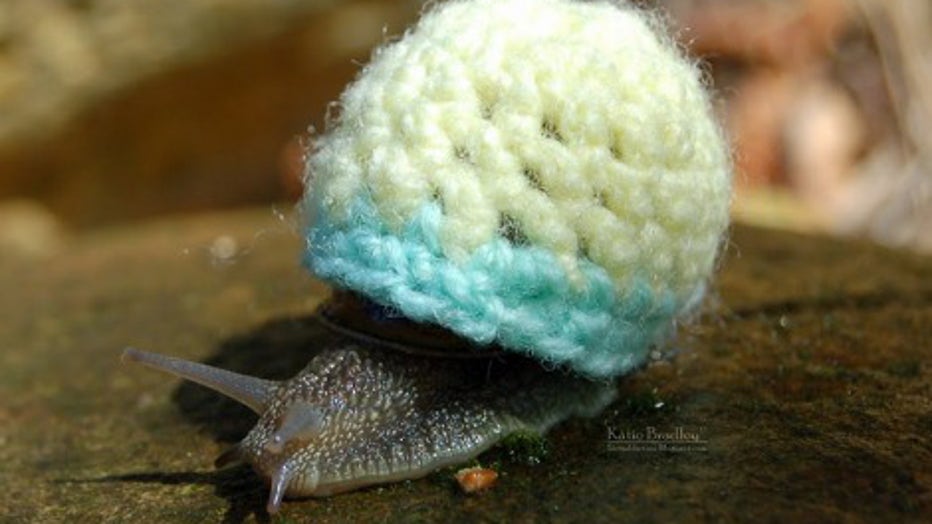 Photo courtesy of Katie Bradley


"The snail cozy was just a random fun little idea that came about when I had a small remnant of yarn left over from another project," said Bradley.  "Since our yard has quite a few European snails in it, I made a snail cozy, just for fun."

Bradley said her favorite so far is the shark fin cozy because every time she sees it the soundtrack to jaws plays in her mind.

The wildest design she can remember she says was  for a customer who wanted a cozy for his tortoise that looked like a little robot vacuum with a cat on it.   But the one she often gets comments about is one of the simplest, the tortoise taco.

But why?  Why does she really do it?

"Seeing tortoises dressed up as a dinosaur or a flying pig or a birthday cake is just plain funny and cute and admittedly a little wacky," said Bradley.