Washington state raises smoking age to 21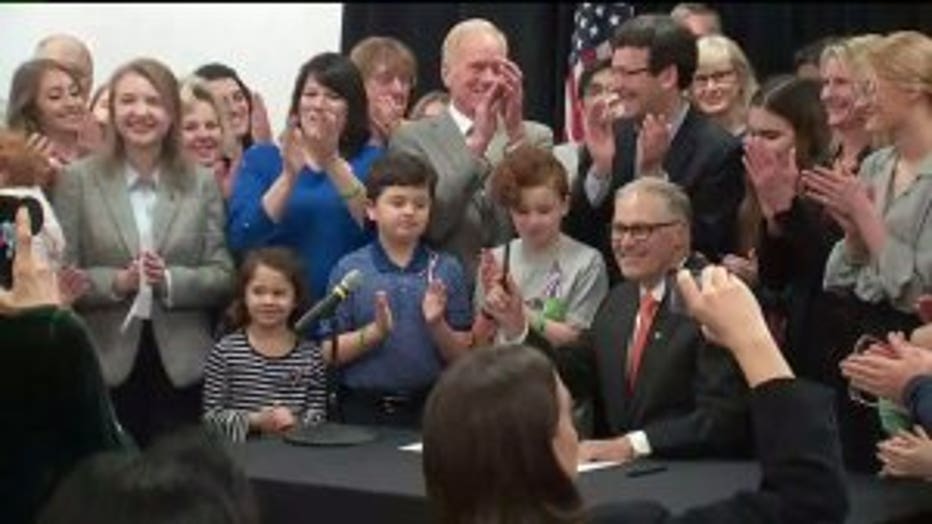 Gov. Jay Inslee signs a bill raising Washington state's smoking age to 21 (Q13 News Photo)


OLYMPIA, Wash. — Washington Gov. Jay Inslee has signed a bill raising the state's smoking age to 21, making it the ninth state in the nation to enact such a change.

Set to take effect in 2020, the bill signed by Inslee Friday raises the legal age for both tobacco products and so-called "vape" products, including e-cigarettes and other vapor devices, whether they include tobacco or not.

California, Hawaii, Maine, Massachusetts, New Jersey, Utah, Virginia and Oregon have already raised the smoking age inside their borders, as has Guam, according to the American Lung Association and the Centers for Disease Control.

Some opponents against the new law say if you can fight for our country, you should be able to smoke.

Lynda Walrath disagrees. Her father smoked for 55 years. She says he started at 18 years old.

"When he joined the military there were cigarettes in his ration packets, and they were readily available on Camp Pendleton from what he told me," she said. "For me the idea is to keep them from every starting because they can't stop."

According to the CDC, nine out of every 10 smokers first try cigarettes by the age of 18. A Surgeon General's report said the average start age is 15 years old.

Fast forward decades, and some end up like Walrath's father, hooked up to oxygen the last five years of his lafe, barely able to breathe and still addicted.

"After he passed away and I was cleaning his house I found cigarettes in his coat pocket," she said. "So he never really did quit smoking, which is really sad."

Teenagers these days are more likely to pick up vaping. The CDC said in 2019 that about 20 percent of high schoolers reported vaping in the past month. Those numbers are consistent with studies in Washington.

Students say raising the age limit limits their access.

"I think it will make a difference because not a lot of people know when they're in high school someone who's 21, and since they know someone who's 18 it's a lot easier," said Eastlake High School senior Allison Wade. "But now I think it'll make it harder to access."

Proposals raising the smoking age have also passed Legislatures in New York, Illinois, and Maryland, but have yet to be signed into law.