Washington state allocates funds, coordinates response for tsunami debris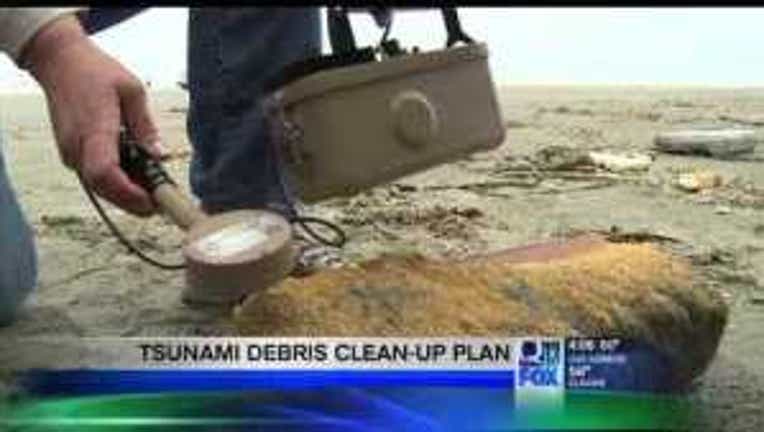 OCEAN SHORES, Wash. -- It started with a soccer ball and fishing boat washing up in Alaska, then a huge dock was found on an Oregon beach, and Friday another battered boat was found at Washington's Cape Disappointment State Park.

A massive amount debris washed away from Japan during last year's tsunami is churning in the Pacific and beginning to make landfall on the West Coast.

Washington's departments of Ecology, Health, Fish and Wildlife and Washington Parks and Recreation Commission, as well as the National Oceanic and Atmospheric Administration, are all charged with ensuring the debris is harmless and helping remove it as it arrives.



On Monday, Gov. Chris Gregoire ordered the state's Military Department Emergency Management Division (EMD) to take the lead in coordinating the response to such debris.

"The federal government is the ultimate lead as our state responds to tsunami debris that washes up on our beaches," Gregoire said. "But our federal partners need support to protect our coast and keep our citizens safe. There is no better agency to lead coordination than our Emergency Management Division. That agency has the experience and know-how necessary to bring groups together to address a variety of situations."

Gregoire also said that she has coordinated with the governors of California, Oregon and Alaska to request federal financial reimbursement for debris management and cleanup efforts. Washington's Department of Ecology has set aside $100,000 from its budget should it be needed.

The debris has thus far been arriving as a trickle; there is fear however that severe weather could bring huge amounts to area beaches all at once.

"While we expect debris to arrive slowly over the next several years, there's a chance a major storm could wash up several thousand pounds of debris at once," Gregoire said. "That will require far more financial resources than our state has available. I'm confident our federal partners will recognize the need to ensure our beaches, our shellfish, and the livelihoods of those living on the coast are safe and protected."

While beachgoers may be interested in examining the items after their trek across the ocean, state officials are concerned about potentially invasive species that could be found on them.

There is also some concern over radiation contamination after the Fukushima nuclear power plant disaster that rocked Japan following the tsunami. So far, no debris has shown any dangerous level of radiation.

"I want to assure citizens that we will do everything we can to keep our beaches clean and safe," Gregoire said. "Our commitment must be well planned and it will be. I also want to say that the help of volunteers will be critical."

Gregoire encouraged the public to stay away from debris believed to be hazardous or contain oil and report it to 800-OILS-911.


The Washington Department of Ecology has been distributing information about where to call when citizens encounter debris. For more information, go to www.ecy.wa.gov/news/2012/itn01_debris.html