Washington businesses look to export goods with tariff wars looming


SEATTLE -- Bringing business to Washington state is a big job that includes a plan to entice international trade.

Because we're one of the closest ports to Asian countries, business leaders argue Western Washington should be able to create and cultivate those relations.

But all of this is coming at a time when investors and Wall Street are getting increasingly nervous about a growing trade war between the US and China according to CNN.

President Trump will meet with Chinese President Xi Jin Ping next weeks during the G8 Summit.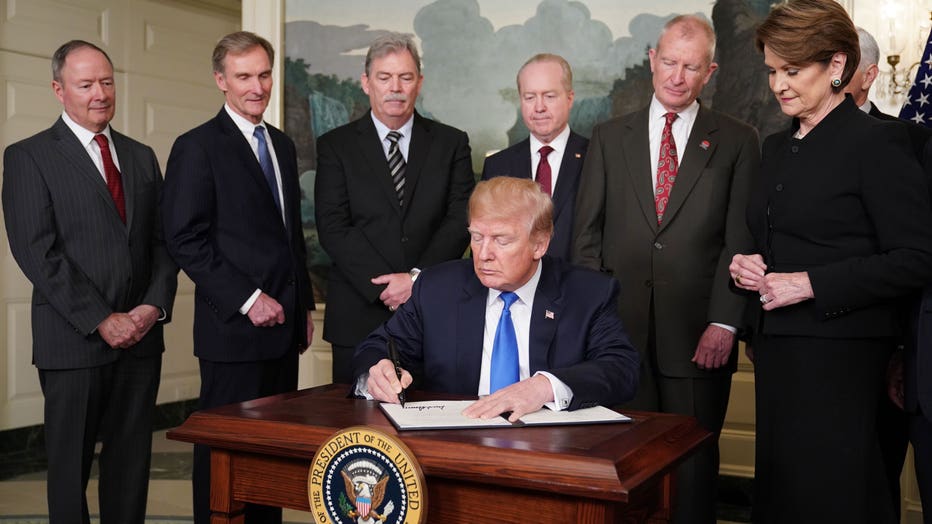 US President Donald Trump signs trade sanctions against China on March 22, 2018, in the Diplomatic Reception Room of the White House in Washington, DC, on March 22, 2018. (Mandel Ngan/AFP/Getty Images)


First thing in the morning, Hale's Ales Brewery is bustling with bubbly batches of beer.

"We've been making a consistently delicious product for a long, long time," said Hale's Ales Brewery Sales Manager Bill Preid.

Hale's Ales Brewery Sales Manager Bill Preid has been there since the first pour in 1983.

"We are the third oldest craft brewery in the northwest.  Right now we are the longest running independently owned brewery in the northwest," said Preid.

A new business venture could spread their sales overseas.  In September, the brewery welcomed four representatives from Asian countries who may pick Hale's Ales as its newest company to import from the US.

"We just celebrated our 35th anniversary," said Preid.

While there's some 400 craft breweries in the northwest, consumers in Japan, South Korea, China, and Vietnam are just starting to catch on.

"Craft beer is kind of a new trend there; the craft beer market is rising rapidly and this is a good chance to learn more about Washington state beers," said South Korea Trade Representative Danny Kim.

A positive relationship between the US and South Korea lead to zero tariffs on most US agriculture goods, but the trade war between China looms.

"They said, 'Well, we're going to do the same thing.' I said 'That's okay, we have far more bullets," said President Trump.

President Trump brushes off China's plans to retaliate again for his tariff increases, but we've already heard from Washington breweries who are feeling the pinch.

"Whether it was the equipment we use for manufacturing or aluminum cans we're already started to see a price increase on our aluminum cans," said Dirty Bucket Brewing Co., Owner & Head Brewer Steve Acord.

Just this summer, their nine cent cans jumped to 13 cents.  It may not seem like a lot until you multiple that by the thousands, but Hale's Ales hasn't started exporting just yet.

"The background noise that you hear about tariff wars is something that we'll have to cross that bridge when we come to it," said Preid.

And it's not just Hale's Ales who's trying to navigate unchartered seas.  36 companies had a chance to meet with four reps for 30 minute sessions in a Seattle hotel.

"It's kind of speed dating format where they move from country to country," said Washington Department of Agriculture International Marketing Program Manager Rianne Perry.

For a full week, once a year, state businesses get a chance to try to boost their sales overseas with help from the Washington Department of Agriculture.  Washington Department of Agriculture International Marketing Program Manager Rianne Perry says some companies start exporting right away, but most need help.

"It's going to take some time, there are relationships that need to be built.  It typically takes going to that country because again there has to be that relationship built and that trust built," said Perry.

But before those costly trips happen, the reps meet with companies in Washington state.   Taylor Shellfish already has a relationship with Japan.

"They ship live oysters and all sorts of shellfish to Japan," said Japan Trade Representative Scott Hitchman.

But not so much for emerging markets like Vietnam.

"Especially now we're focusing on buying a lot of seafood from the Pacific Northwest," said Vietnam Trade Representative Francis Lee.

The US and Vietnam's dark past is a stark contrast from the budding diplomatic relationship now.  Vietnam is home to a growing middle class with a disposable income and a big appetite for Washington goods.

"We are eating fresher cherry than people in the east coast. It takes two days over land from the west to the east, but 24 hours the cherry arrives in Vietnam and the consumer is eating one day old cherries," said Lee.

Chinese consumers are big on dairy.  The four Asian reps visited a farm on the east side of the state during their week long visit.  Exporting milk and milk products could be a lifeline for Washington Dairy Farmers who are struggling to stay afloat domestically.  But it's all in jeopardy now with the US in the midst of the most volatile trade wars with China and Mexico.

"Some industries are being hit harder than others," said Perry.

The US Dairy Export Council says one out of every seven gallons of milk is sold internationally that amounts to five-and-a-half billion dollars in sales.

"Our Department of Agriculture is very concerned and we're monitoring the impacts on the tariffs on our businesses," said Perry.

But for now, the Department of Agriculture is pushing forward and its Chinese rep argues the trade war isn't affecting business right now.

"Not really so far but still Chinese consumers really like US products," said China Representative Li Hai Dong.

But that doesn't match what we've seen on Wall Street.  The International Monetary Fund just revised its prediction for global economic growth saying the tariff wars will hurt both the US and China.  Back at the Brewery, tariffs aside, Washington Businesses can encounter a long list of challenges like government regulations at home and abroad.

"Logistics often makes or breaks export deals.  That's something we can help provide advice on or make introductions," said Hitchman.

These initial introductions in Seattle help to lay the ground work for what could be a beneficial economic relationship for all countries involved.