Warm meals and warm clothes for all at Belltown free Thanksgiving dinner


SEATTLE -- Shane Tompkins is homeless right now. He knows how much a warm meal and being treated like family can mean to somebody on the streets.  

It's why he helped start an annual Thanksgiving dinner for all in Belltown eight years ago.

"You wouldn't believe what it does to me. I looked forward to this the minute it was over last year, ok?" said Tompkins.  

He is one of dozens of volunteers, like Luam Wersom of Mojitos Seattle restaurant, cooking and serving 400 pounds of turkey and all the trimmings.

"It's not just that we give back, but we get to connect with old friends when we haven't seen each other," said Wersom.

Cheryl Johnny enjoyed the Thanksgiving dinner for the second year.  She says she spent a lot of years being homeless.

"I recently got into a place but I don`t really spend time with my family so these things are important," said Johnny.  

Dino Slatina from Sarajevo Lounge and Manny Hendricks donated the funds to pay for the dinners that Mustapha Rafa helped other local restaurateurs prepare. The owner of Amber Restaurant and Lounge donated the space.

"We have a tremendously large kitchen. A lot of people know us for our nightlife, but we also have a full kitchen with a full menu, so it's really great to see the volunteers have enough space to be able to cook 20 to 30 turkeys," said Ryan Lewis.  

One of those volunteers who returned this year is Larry Snyder.

"This is an opportunity for those that are fortunate to give to those people who really need it most," said Snyder, who brought his friend Catherine Lenox to help out for the first time.

"It really is special that people are coming together to help other people," said Lenox.

Every person enjoying a meal also left with donations from the Richard Sherman Foundation, Marshawn Lynch's Beast Mode Apparel, XStadium Seattle and Strideline Socks.

"So they're given an experience. It's an at-home kind of experience where we give them free coats, free gloves, free socks, warm attire for the winter," said Amir Azer.  

Former Seahawks receiver Sidney Rice also stopped by to help.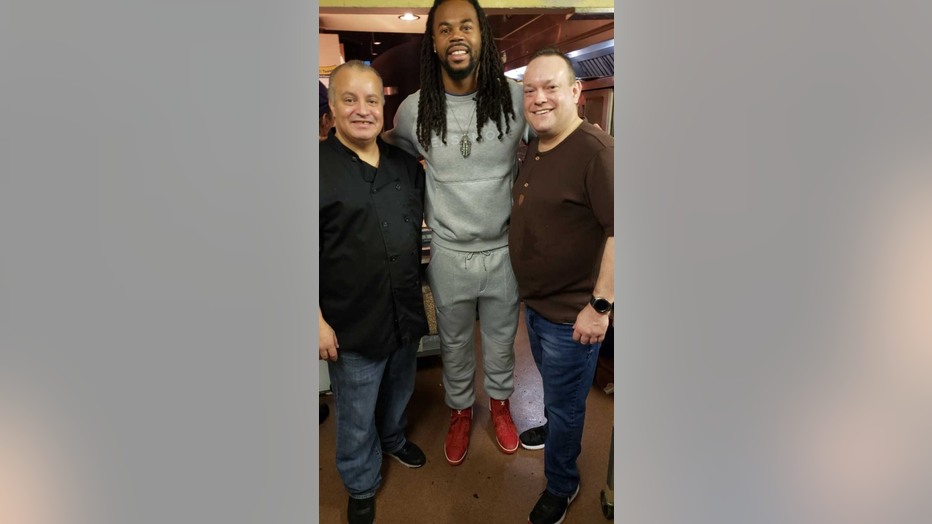 Former Seahawks receiver Sidney Rice with volunteers Mustapha Rafa and Manny Hendricks


As Shane Tompkins looked around the restaurant marveling on what he was able to help start, he had tears in his eyes.

"I have to give back Mr. Rose. People gave to me, and I have to give back," said Tompkins.