Viral photo shows truck driver blowing exhaust at cyclist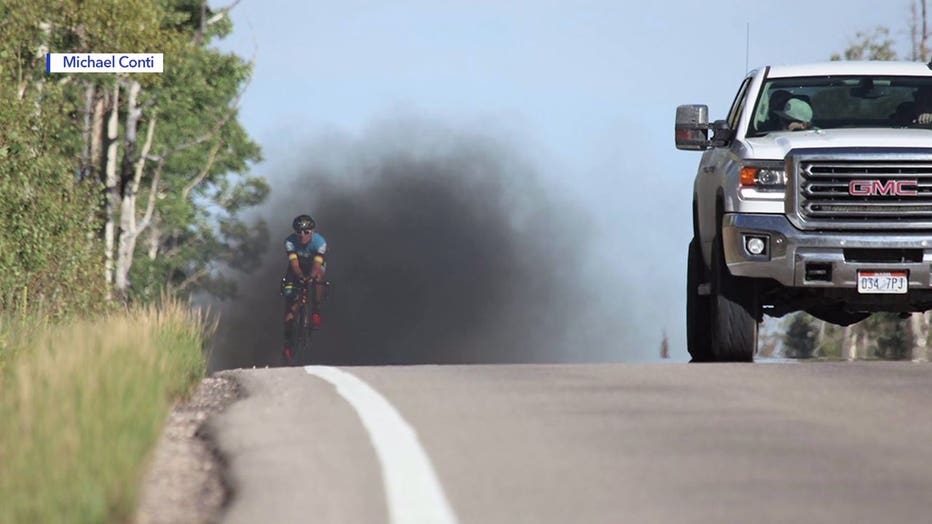 (Credit: Michael Conti via KSTU)


KANE COUNTY, Utah -- California cyclist Andrew Danly won the Hoodoo 300 cycling race in southern Utah this past weekend.

Park City Ultra Cyclist, Michael Conti, documented Danly's record-setting ride in hundreds of photographs, but only one has gone viral, according to KSTU.

It shows Danly pedaling on Highway 14 near Cedar Breaks, when a white GMC diesel pickup truck with its Utah license plate clearly exposed, passed him and released a huge plume of black exhaust.

"All the sudden there's this big bloom of smoke comes out of the exhaust and covered Andrew in black smoke," Conti said.

The camera on the back of Conti's bike captured the smoke bomb, and the occupants of the pickup looking back in mirrors and laughing.

"It doesn't feel good to know someone is trying to cover you in black soot and up there laughing and there's nothing you can do about it," Danly said.

Both men hope the photo brings awareness to drivers and cyclists to follow the rules of the road.

They sent the photos to the Utah Highway Patrol and the Kane County Attorneys Office has the case. If identified, the driver faces a $100 fine.