Videos show copter rotated 360 degrees shortly after lifting off, before fatal crash
SEATTLE -- Surveillance videos show the KOMO-TV news helicopter rotated counterclockwise as it lifted off from its helipad and ascended slightly in a near-level altitude, but it continued rotating counterclockwise 360 degrees before it pitched forward in a nose low attitude, disappeared from view and then crashed, the NTSB said in a preliminary report issued Friday night. The report does not give a cause of the crash.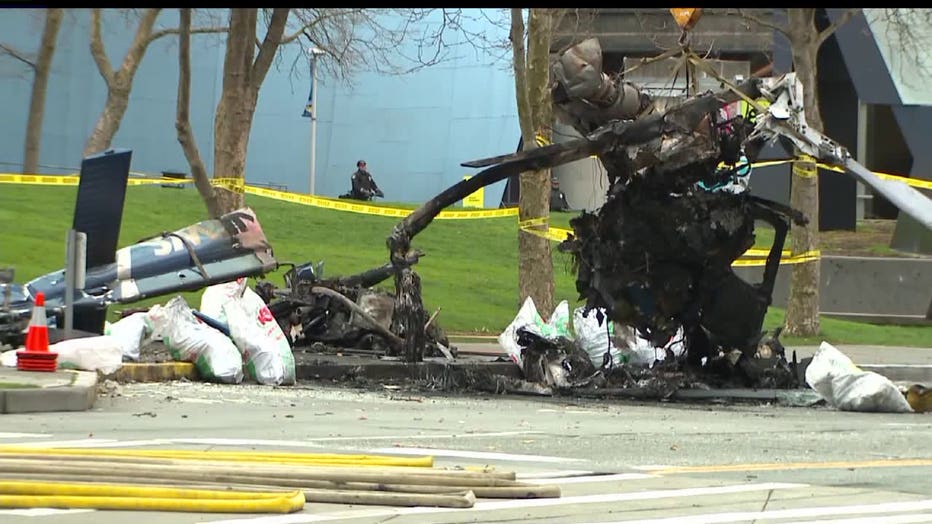 This is what remained of the KOMO-TV News helicopter that crashed Tuesday near the Space Needle in Seattle. (Photo: KCPQ-TV)


The National Transportation Safety Board offered no comment on the report.

The two men on board the copter -- the pilot and photographer -- were killed, and a driver of a car on the ground was seriously injured in Tuesday's crash.

The NTSB said the Seattle Police Department was able to secure surveillance video from three different cameras.

"The videos depicted the helicopter stationary on the helipad for about 15 minutes prior to takeoff," the report said. "Further review revealed during the takeoff sequence, the helicopter began rotating counterclockwise and ascending slightly in a near level attitude. The helicopter continued rotating counterclockwise for about 360 degrees of rotation before it pitched forward in a nose low attitude. The helicopter continued the counterclockwise rotation in a nose low attitude until it disappeared from the camera's field of view."

The helicopter crashed shortly after that.

The preliminary report said witnesses observed the same situation.

"Multiple witnesses located adjacent to the accident site reported observing the helicopter lift off from the helipad and begin a counterclockwise rotation. The witnesses stated that the helicopter pitched downward, while continuing the counterclockwise rotation, and descended into an occupied vehicle and terrain near the intersection of 4th Avenue and Broad Street; post-impact fire ensued," the report said.



The full report is below:

NTSB Identification: WPR14FA137
14 CFR Part 91: General Aviation
Accident occurred Tuesday, March 18, 2014 in Seattle, WA
Aircraft: EUROCOPTER AS 350 B2, registration: N250FB
Injuries: 2 Fatal,1 Serious.
This is preliminary information, subject to change, and may contain errors. Any errors in this report will be corrected when the final report has been completed. NTSB investigators either traveled in support of this investigation or conducted a significant amount of investigative work without any travel, and used data obtained from various sources to prepare this aircraft accident report.