Videos point to 2 suspects in Boston Marathon bombing
 Two suspects in the Boston Marathon bombing have been singled out in surveillance videos of the scene, sources told the Los Angeles Times on Wednesday.


U.S. counter-terrorism and law enforcement officials told The Times that the suspects in the Boston bombings were seen in a department store video that caught images of a man leaving a backpack near the finish line.

A second federal official said he has been briefed that authorities believe a second video or photo showed "two men with two backpacks."

A counter-terrorism official said the suspects were picked out because they were carrying black backpacks, as well as because of their demeanor and how they reacted to the bomb blasts. That official said authorities do not yet know the identities of those in the videos.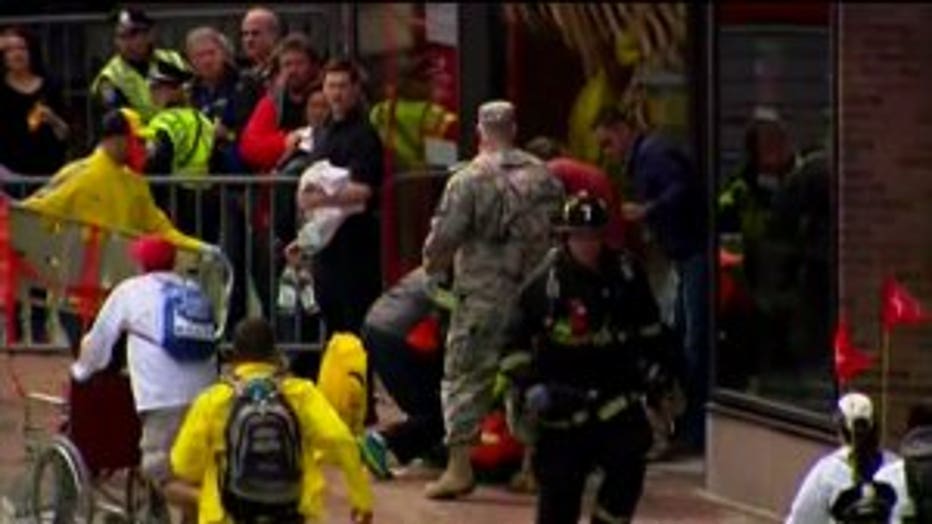 Media personnel were gathering at the Boston federal courthouse Wednesday afternoon in anticipation of a possible arrest.

Arrest imminent in Boston Marathon bombing, AP reports | 10:52 a.m.

BOSTON -- A law enforcement official has said an arrest is imminent in the Boston Marathon bombing and that the suspect will be brought to court, according to the Associated Press.

Also, officials told the Boston Globe and CNN that they have an image of a possible suspect near the site of the second of two explosions in the finish-line area along Boylston Street. Investigators have asked the public for video and photographs from the scene in the hope of identifying a suspect.

According to the Globe, the person is shown carrying and perhaps dropping a black bag outside the Forum restaurant on Boylston.

An unnamed official told the newspaper that authorities may publicize their findings as early as this afternoon. A briefing has been scheduled for 5 p.m. EDT

The same official also said a surveillance camera at Lord & Taylor, located directly across the street, has provided clear video of the area, though it was unclear whether the image of the suspect was taken from that camera, the newspaper said on its website.

The newspaper's report came about the same time as CNN reported from one of its law enforcement sources that officials may have identified a suspect from video of the scene at the time of the blast.

CNN quoted the unidentified source as noting "significant" progress in the case.

None of the reports could be confirmed independently.

Meanwhile, investigators wearing white protective suits and agents leading sniffer dogs continued on Wednesday to collect evidence from the blast sites inside a well-guarded police cordon near Boston's Copley Square.

Agents from the FBI, ATF and other agencies moved back and forth from the crime scene along Exeter Street, a narrow artery leading from Boylston Street that was lined with mobile labs and bomb-disposal trucks.

-- Richard A. Serrano and Ken Dilanian, Los Angeles Times; Times staff writers Shashank Bengali and Michael Muskal contributed to this report.