VIDEO: Thieves hit Puyallup vape shop 3 times since Thanksgiving; reward for ID of suspects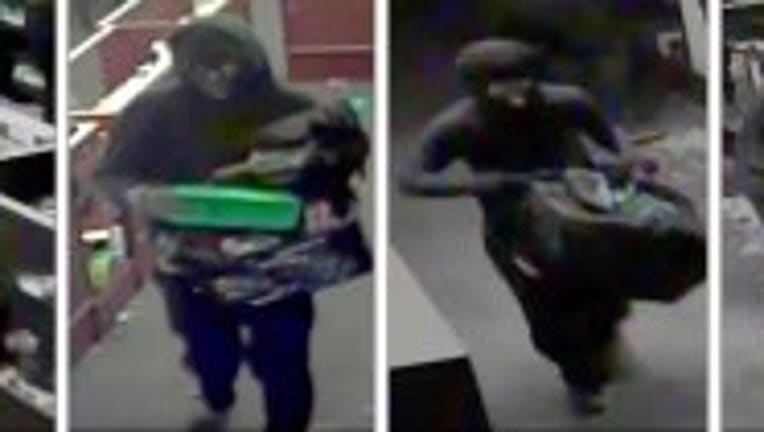 PUYALLUP, Wash. – The owner of a mom-and-pop Vape shop in Pierce County wants your help to find the crooks who are trying to steal his holiday cheer after breaking into his business three times since Thanksgiving.

Detectives say vape shops sell expensive merchandise, making them targets for thieves.




Super Vape'z is tucked away in a strip mall in Puyallup.  Three times, the store manager's holiday spirit was trampled on by thieves.  The first was Thanksgiving night.

"They busted the first door. They came in but not too long, they grab something, and they go because the alarm was going," said Super Vape'z store manager Marieane Rosales.

In the surveillance video, you can see the thieves smashing the displays and targeting the high-priced goods.  And then again just weeks later.

"Of course they take a lot of stuff in the shop and they get away again," said Rosales.

And finally they came back a third time.

"Two guys again, with the masks, the ski masks and the gloves and the hoodie," said Rosales.

"Unfortunately, they're high risk for being burglarized by people like anything that are addicted to something that want to get in there and get it, that's why marijuana stores are verified and other places where people need to get in and get things like drugs," said Pierce County Sheriff's Detective Ed Troyer.

The shop owner tells us the FDA changed rules for selling vape products, adding age restrictions online and at brick-and-mortar stores like Super Vape'z.

"They've taken so much merchandise, it must be out there for sale somewhere whether it's online or being done in person, we don't know. But if someone is selling this type of equipment somewhere where prices are too good to be true, we've probably found our suspects," said Det. Troyer.

After all three break-ins, Rosales and the shop's owner have shown up at the shop at 2 a.m. to find windows smashed and glass all over the glass.  Now they've installed a metal gate to try to keep the thieves out

"Kind of painful and angry and I hope that they catch them pretty soon and then they have to pay for it," said Rosales.

If you recognize the men in the video or believe you may know who is responsible for the break-ins, call Crime Stoppers at 1-800-222-TIPS.  You can leave an anonymous message and may get a reward up to $1,000.