VIDEO: Stolen car crashes into Auburn donut shop
AUBURN, Wash. - Police are searching for a suspect who crashed a stolen car into a donut shop in Auburn on Tuesday. 
According to the Auburn Police Department (APD), at around 11:00 p.m., a driver slammed into Donut Star on Auburn Way S – just a few blocks away from Les Gove Park.
Surveillance video from the incident shows the car crashing into the concrete barriers in front of the store. The car did not necessarily break through the building, but the impact from the crash was strong enough to cause damage to the business's lobby area.
When the car comes to a rest in the middle of the street, the driver can be seen opening the door to escape the wreckage.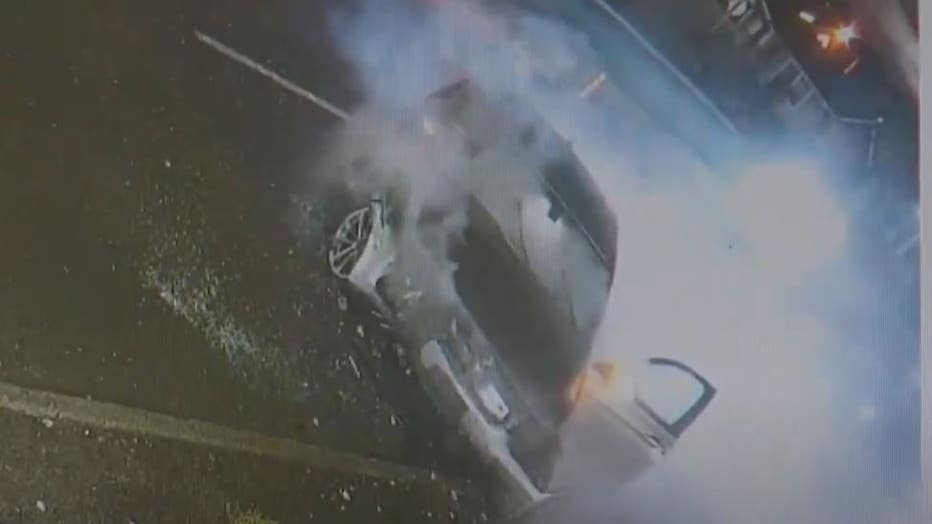 Authorities say nobody was hurt, and the driver ran from the scene.
Information is limited at this time, check back for updates.
The owner of Donut Star told FOX 13 Seattle that this is not the first time someone has crashed into their building. Back in October, another driver crashed into the barriers outside the shop. Four years ago, a suspected drunk driver smashed their truck into the side of the building near their parking lot. 
The owner says they have asked the city for help to prevent these crashes from happening.
RELATED: I-90 pileup: 18 cars, 12 semis involved in crash near Ellensburg, expect 10-12 hour closure EB
This is a developing story.