Video showing ferry captain leaving vessel as it's sinking fuels outrage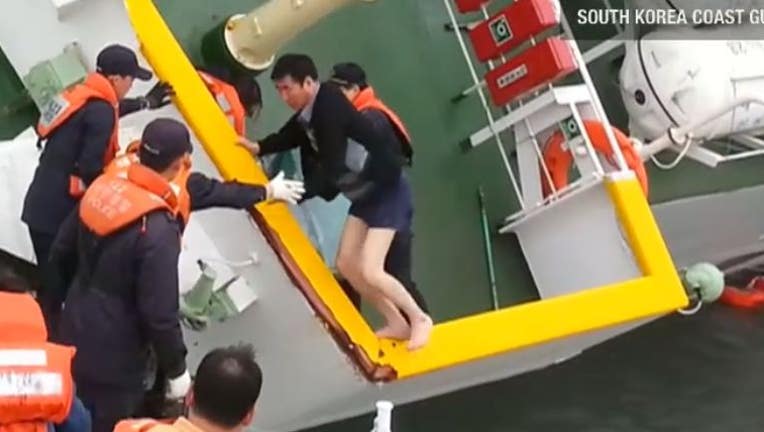 JINDO, South Korea (CNN) -- In one video, the captain of the sinking South Korean ferry scrambles to safety. In another, stranded passengers panic.

"Wow, it's tilting a lot. We're tilting to this side. Can't move," one says.

"You think I'm really going to die?" another cries.

The two recordings fueled fresh outrage Monday over the Sewol ferry's sinking as questions swirled over why so many perished in the disaster while many members of the ship's crew survived.

The video capturing passengers' panic was recorded by a teenage boy on the vessel, according to South Korean national TV network JTBC. The teen's father gave the network the footage after authorities recovered his son's body and found the cell phone. Its memory card was still intact, JTBC reported.

Meanwhile, a video released by South Korea's coast guard shows the coast guard's rescue of Lee Joon-seok, the ship's captain, who scrambles off the stricken vessel in his underwear.

Speaking out about it for the first time on Monday, the men who rescued him said they had no idea who he was until later.

 



"During the rescue operation, people were just dropping in the sea," South Korean coast guard Capt. Kim Kyung Il told reporters. "Everyone was wearing a life vest, so we couldn't tell who was passenger, and who was crew."

The ship's captain and 14 others have been arrested. Prosecutors in Mokpo, who are leading the ferry investigation, tell CNN that all the 15 crew members in charge of sailing and the engine room have been indicted and are being held in the Mokpo prison.

Authorities also arrested three people Monday on suspicion of destroying evidence connected to the sinking of the ferry.

On Sunday, South Korea's Prime Minister announced his resignation, saying he wants to take responsibility for the initial reaction to the disaster.

On Monday, searchers continued to look for passengers and crew, and so far have retrieved 193 bodies. Another 109 people are still missing.