Victims of Taylor Bridge Wildfire slowly trying to rebuild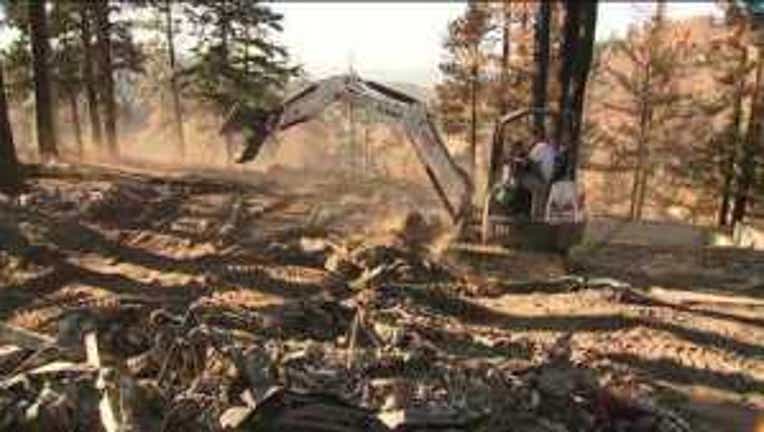 People who lost their homes last month in the Taylor Bridge Wildfire are slowly cleaning up the burned rubble and trying to rebuild their homes and lives.

Those in the Twin Lakes community are doing what neighbors do, helping each other to clean up what`s left of their homes and hopefully rebuild. Some here lost everything and some were unbelievably lucky.

Since the day he was able to return to his home in the Twin Lakes community, Robert Suemori has spent many days picking through the rubble of what was his dream home.

"You know, your heart just kind of sinks," Suemori said Thursday. "You're not sure what to think, you're in a big state of shock."



Suemori and his family were out of town when the Taylor Bridge Wildfire started on Aug. 13.

For more than two weeks, the fire raged through more than 20,000 acres halfway between Cle Elum and Ellensburg. Dozens of homes were destroyed and families just like the Suemoris lost everything.

"Everything that we've acquired over the last 12 years of being together -- three cars, my garage full of tools," Suemori said. "My uncle was a race car driver so I lost all of his tools, everything that was handed down to me, it's all gone."

A heartbreaking loss, Suemori said, and he is not alone; this community was one of the hardest hit.

Neighbor Mike Quiett pointed in one direction and said, "To the left of that was another home.  Through the trees here another pile of rubble. You see, there was a home and in the distance another pile of rubble was another home. And they are all gone."

But Quiett was one of the lucky ones. While others around him lost their homes, his house was virtually untouched.

"I'm just thankful and lucky," he said. "There's no rhyme or reason if you look at how the fire came through here.  Why it missed my home, I just can`t say."

So now Quiett tries to help and support his neighbors.

In spite of his loss, Suemori said he and his family have a bright future here in the community they love.

"We`re going to rebuild," Suemori said. "I`m going to clean up my crap. I'm working on blueprints; I`ve got them turned in.

"When you have a view like this," he said, pointing to a beautiful valley down below him, "it's hard to leave."