Victims, lawyers see pattern in state DSHS oversight of child abuse cases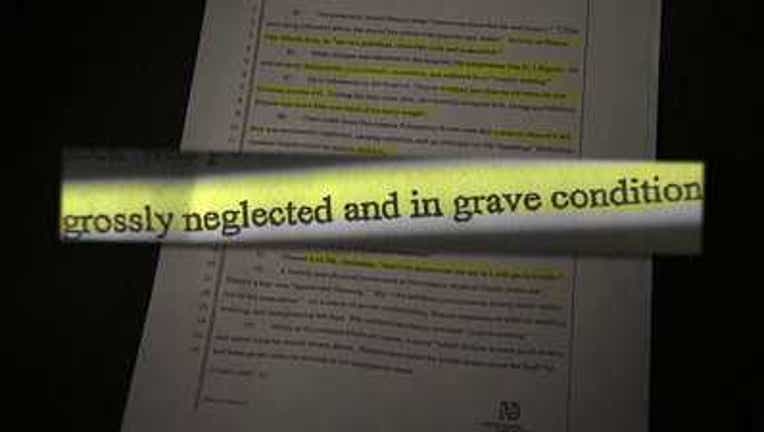 Over time, Amber Wright has blossomed into a strong young woman. But it wasn't easy after enduring years of abuse at the hands of her own father.

David Wright served three and a half years in prison for forcing Amber to take drugs and molesting her from the time she was 13 until his arrest nearly two years later.

"We are under the impression our social workers go out there, do their job and follow their laws to protect our children and it's nothing like that," said Amber's adoptive mother, Michelle Bossard.

During the time Amber was being abused, eight other girls in the neighborhood said they witnessed the abuse. Some of them were even molested by David Wright and gave sworn statements to that effect to the Sumner Police Department.

The Child Protective Services social worker assigned to the case, Bruce Morrison, admits he was unqualified to investigate such charges and says he never read those statements or interviewed any of those girls before closing the case and recommending Amber be returned to her abusive father's home.

"During the 2004 investigation that you conducted, did you read the victim statements about other young girls being fed drugs?" asked attorney David Moody in court.

"No, sir," said Morrison.

"Being asked to perform sexual favors?" asked Moody.

"No, sir," said Morrison.

"Witnessing David Wright exploit Amber?" asked Moody.

"No, sir," said Morrison.

Attorneys who represent victims in cases like these said it's an ugly pattern they see again and again. Take the case of Maria Esquivel. She is charged with abusing six children in her Auburn home.

"The oldest daughter was beaten with rolling pins to the point where people knew her couldn`t even recognize her," said attorney Julie Kays.

Those victims are suing the state Department of Social and Health Services for failing to protect them. They claim that despite 17 complaints to the state by teachers and concerned family friends, DSHS never took the kids out of the home.

"When you go out to investigate a case, you don't just talk to the kid or the victim in front of the abuser and that's what would happen oftentimes," said Kays. "It was woefully inadequate, and these kids paid the price."

"It doesn't take someone with a whole lot of common sense to realize these are dangerous situations and DSHS continues to screw up time and time again," said Moody, Amber Wright's lawyer.

Moody has won some of the largest settlements against DSHS in the agency's history, including $7.5 million for brothers Joey and Shayne Abegg, who were abused by their father, Danny Abegg.

"He was a meth addict, and from the time they were placed back in the home until each was rescued, they were beaten and starved systematically week after week after week," said Moody.

Neighbors, baby sitters and teachers all alerted DSHS, noting the boys' underfed appearance, heavy bruising and their repeated hoarding of food.

In May 2006, a caseworker finally went to the house but only spoke to the father.

"They would just take dad's excuses at face value. DSHS didn't take the time to speak to the complaining parties. They only talked to the alleged abuser, who said everything's fine, go away and, of course, DSHS obliged," said Moody.

DSHS Assistant Secretary Denise Revels-Robinson said that's not the way an investigation should be handled.

"Sometimes children don't disclose they've been abused or neglected, so we still have a responsibility to gather other information in addition to what we're asking the child to see if we can confirm," Revels-Robinson said.

Moody said that was just the beginning. Social workers warned Abegg days before each visit, and the boys' case was bounced around through a number of different caseworkers.

Finally, the Snohomish County Sheriff`s Office got involved. They got a call to do a welfare check at Abegg's home and found 4-year-old Shayne severely emaciated.

Records show Shayne weighed less than he did when he was just 14 months old. The boy had bruises and sores all over his body and, when taken to the hospital, was near death with a temperature of 87.1 degrees.

A DSHS review of the case found they missed a clear pattern of abuse and neglect and failed to follow the department's own policy to ensure the boys' safety.

"We are learning from things that go well, and we're learning from some of those things that don't go well," Revels-Robinson said. "I think all businesses or organizations do that. We're always trying to get better and stronger."

Revels-Robinson said the Abegg case spurred significant improvements in the way social workers are prepped for field work.

"There's more training, and the training is being done differently so it's not just classroom training and we just send people out. I think we all recognize that for this kind of work, that doesn't always get you to where you need to be."

That all sounds fine to Moody, as long as it leads to real change.

"In these cases and others, we see DSHS abdicating its responsibility and leaving the kids in harmful situations. You err on the side of caution to protect children. That's what we're paying DSHS to do," said Moody.

Danny Abegg was sentenced to eight years for child abuse.

David Wright spent three and a half years in prison for incest and molestation.