Veteran recounts rushing to help treat Renton theater shooting victim


SEATTLE – Nathaniel Hansen, a veteran, credits his military medical training for helping a shooting victim inside a Renton movie theater Thursday night.

Hansen said he rushed to help the victim, identified as Michelle Mallari, 40, by Harborview Medical Center, the moment the shooter left the theater.

Police said the shooting inside the Regal Cinemas at The Landing was accidental.

Investigators have not yet released the 29-year-old suspect's name but he's been booked into jail on investigation of assault. Police also said the Newcastle man has an up-to-date conceal-carry permit.

Hansen said he and his girlfriend were watching the move "13 hours: The Secret Soldiers of Benghazi" when the gun went off Thursday night.

"That's when we heard a loud pop and everything kind of froze," he said.

Hansen said he watched the suspect stagger out of the theater – that's when he noticed the man was still carrying a firearm.

"He obviously had his firearm visual to me," said Hansen. "It was in his hand as he was leaving."

After the gunman left, Hansen said his military medical training kicked in, and that's when he rushed to help Mallari by compressing her wound.

He said the bullet went through Mallari's right shoulder. She had been sitting in front of the gunman.

Renton Police released images of the theater seat showing a small bullet hole; the seat is where Mallari had been seated.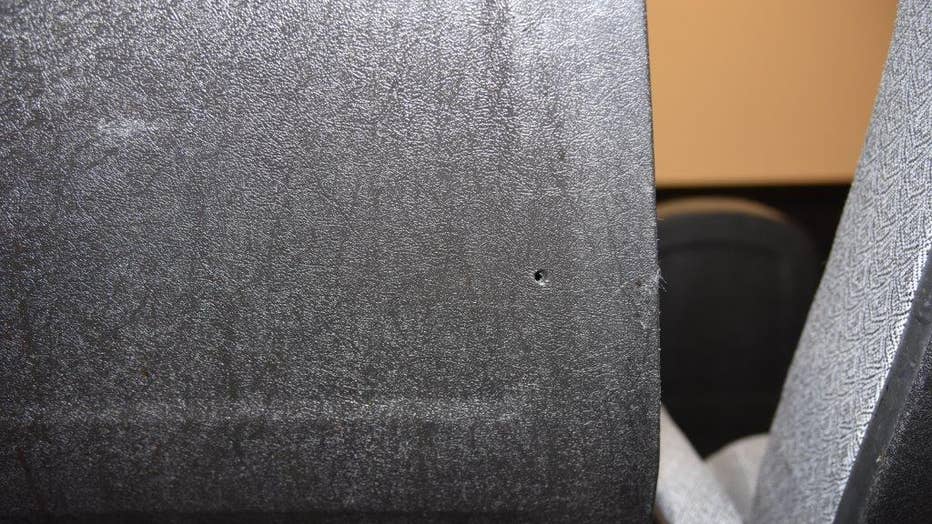 "She was crying a little bit and saying, it hurts. My shoulder hurts," said Hansen. "She said she had no idea who the shooter was."

Witnesses told police the suspect appeared to be intoxicated when he went into The Landing theater in Renton on Thursday night, and then into a restaurant nearby where he also dropped his gun.

Police arrested the man after his father called police, saying his son was distraught and called the shooting an accident. The suspect was arrested at his home in Newcastle.

Other customers inside the theater watching different movies had no idea what had happened until they wandered outside.

Hansen said signs in the theater remind customers that the building is a gun-free zone. He worries theaters will have to resort to metal detectors to make sure all guns stay out.

"It's almost getting to that point," he said. "Ever since the Colorado shooting, I've always had a plan when I go into a movie theater."

Regal Cinemas did not return repeated messages seeking comment.

Mallari is listed in serious condition in intensive care at Harborview.