Veteran escorted by police from Kirkland yogurt shop pushes boycott, possible litigation


KIRKLAND, Wash. – A man removed by police from a yogurt shop in Kirkland says he's pushing for a boycott and stiff penalties for those involved.  About two weeks ago, Kirkland Police asked 31-year-old black man Byron Ragland to leave a Menchies yogurt shop after two white female employees had their manager call 911 saying he was suspicious and made them afraid.  Monday, the city of Kirkland is issuing an apology.  The man removed says he wants actions not words.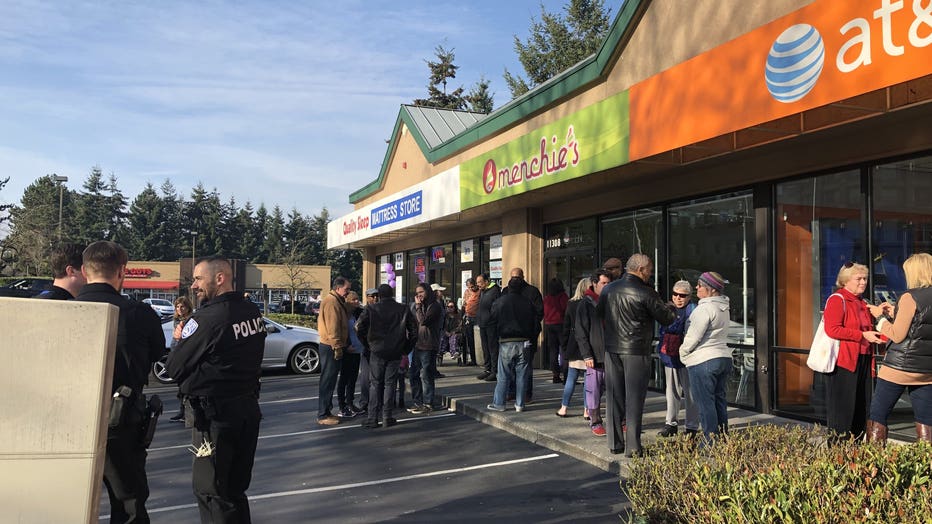 This is 31-year-old Byron Ragland, an Air Force veteran, a University of Washington student, and a court appointed special advocate who was conducting a supervised visit between a mother and her son here at Menchies on November 7th.

"He looks suspicious," said Menchies Kirkland owner Ramon Cruz during a 911 call.

The manager of the store called 911 telling dispatch the suspicious man was African-American and his two white female workers were afraid of him.

Dispatch: "Do you know if he has any weapons?"

Cruz: " No…all my staff are women and they're kind of just scared.   All he does is look at his phone look at them look at his phone look at them."

Shortly after, Kirkland Police showed up and told Ragland to 'move along.'  That's even after Ragland says he told them he was there by court order.

"I haven't slept through the night since this incident happened and I know neither have my parents either," said Byron Ragland, the man who was escorted out of a Menchies on November 7th by Kirkland Police officers.

Ragland says he and his family have suffered a great deal of trauma since the incident.

"What about the trauma of all the black American families who did not make it out of their interactions with police alive?" asked Ragland.

What he wants is clear.

"We definitely should boycott this store.  Those two young ladies that were very petrified they definitely should take a break from work especially the customer service realm," said Ragland.

The Menchies is closed for training of employees according to the posted sign.

"The training should've happened before you got hired. Not after this incident," said NAACP Seattle King County President Gerald Hankerson.

Attached is also this apology from the owner who expresses his regret saying they will learn from this.

But Ragland and his supporters aren't putting the blame solely on the owner.  Right now, the police officers who didn't arrest Ragland or charge him with a crime but forced him to leave are under internal investigation.

"The investigation is still pending but what we're certain of is that it really was a missed opportunity. We could've come in and mitigated the situation between the business owner and Mr. Ragland and the individuals with him and we didn't do that," said City of Kirkland Communications Program Manager Kellie Stickney.

But Ragland's lawyer James Bible says the city's response is too little too late.

"I do believe it violates the laws of discrimination which are present in the state of Washington and the United States of America," said attorney James Bible.

Bible says litigation is likely and Ragland says he wants the shop owner Ramon Cruz out of business.

"That's how you punish white supremacy and anti-black behavior. You hit it hard and you hit it fast right in its pockets," said Ragland.

And a Vietnam veteran from Renton says he'll join him in boycotting Menchies and anywhere else these incidents happen.

"We are not oversensitive. We are not. We are just tired of not being treated with respect and dignity," said Vietnam Veteran Aaron Hazard.

Next Tuesday, the city of Kirkland plans to hold a community town hall to discuss race relations, implicit bias, and ways to move forward.