'Very brave' teacher credited with stopping shooter at North Thurston High School


LACEY, Washington -- A popular teacher at North Thurston High school is being credited with stopping an active shooter on campus Monday morning.

Lacey Police said the shooter had been taken into custody and no one was injured.

Students told Q13 FOX News the staff member who halted the shooting before it could escalate was Mr. Brady Olson.




School district spokesperson Courtney Schrieve confirmed that Olson was the staffer involved.

"He is a very brave man who probably saved a lot of people today," said Schrieve.

Olson released a statement through the district saying in part:

 I reacted in a way that any other teacher would react and at the sound of a gunshot had three other adults, including Tim Brown, Dean of Students, Principal Steve Rood, and Security Officer, Jim Beltico, going toward the sound of gun fire rather than away.

Student Rodolfo Ruedas told Q13 FOX News said he was preparing for a normal Monday morning when he heard people shouting about someone having a gun.

"Everybody was scared," said Rudeas who said he took off running.

Rudeas said as he ran by the school's commons area he saw Olson and the school resource officer holding down someone on the floor.  Rudeas said he believed that person to be the shooter.




According to the North Thurston High School website Olson has taught at NTHS for roughly a decade and was at Black Hills High School in Tumwater for 8 years before that.

"I have taught a variety of classes from Sociology to Special Education US History but currently teach AP Government and Politics and Senior Civics," wrote Olson.

"A lot of people idolized him as a good teacher and a good person," said Rudeas.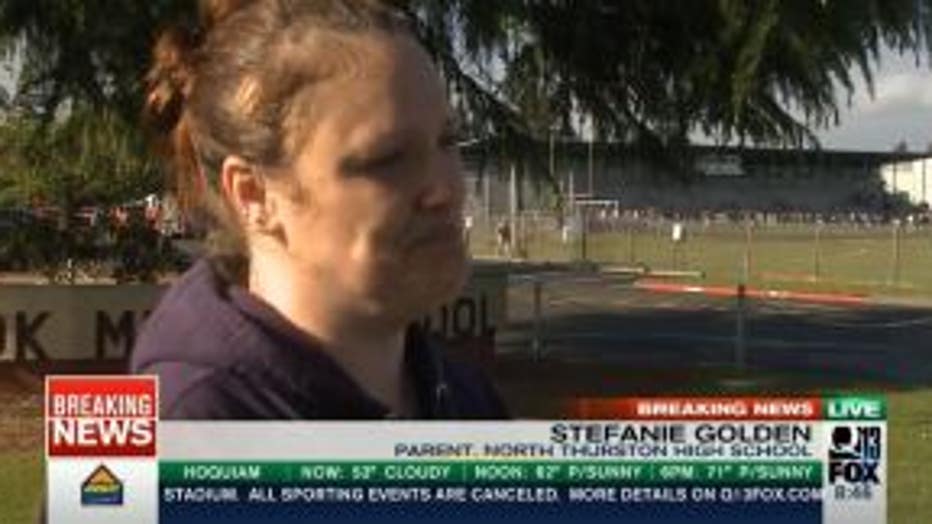 "He's a hero for sure," said Stefanie Golden.  "I think he did what he needed to do. He potentially saved lives. For that he's amazing."