Vehicle, licensing services shutting down for 4 days as DOL upgrades system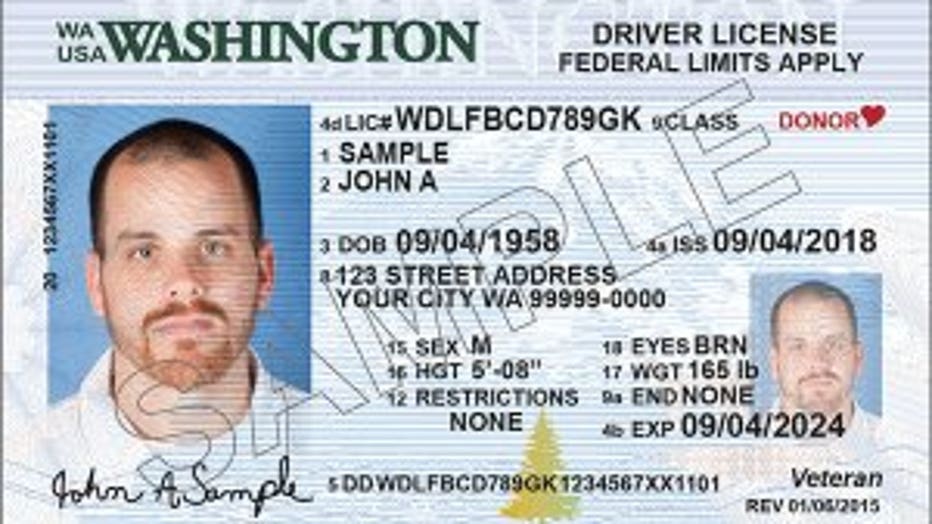 Starting July 1, 2018, all standard cards will be marked with "Federal Limits Apply" to indicate it isn't valid for federal identification purposes. (Photo: Department of Licensing)


OLYMPIA, Wash. -- The state Department of Licensing says most of its online services will be closed through Sept. 3 as it works to upgrade its system.

All vehicle and driver licensing offices and counters will also be closed from Aug. 31 through Sept. 3. Those offices will reopen Sept. 4.

During that closure, people will not be able to register vehicles or vessels, get a driver's license or ID card or report the sale of a vehicle, among other services.

Officials are encouraging everyone who needs those services to do so before Friday.

Licensing director Teresa Berntsen says the new system will allow for a better customer experience and also upgrades the system to provide another layer of security.

New license numbers for everyone

Starting September 4, 2018, all driver license and ID cards issued will receive new driver license numbers.

All will have WDL as the first 3 letters, and will be followed by 9 randomly chosen alphabetical characters and numbers.

Those who already have a driver license or ID card will get the new number when they renew or replace it after September 4. The new driver license format will help protect customers' personal information because the randomly-generated number will not relate to an individual's name or birthdate like the current ones.

What you need to know
What about the REAL ID Act?

As of July 1, 2018, all standard cards are marked with "Federal Limits Apply" to indicate it isn't valid for federal identification purposes. However, you can continue to use your standard license for boarding airplanes and entering secure federal facilities until October 1, 2020.

You can use another approved form of identification at TSA checkpoints like passports and military cards.

Christine Anthony, a spokeswoman for the Washington state Department of Licensing, said late last year that the decision "gives our customers more time to decide if they will need a new type of identification that is acceptable for federal purposes."

The federal law requires state driver's licenses and ID cards to have security enhancements and to be issued to people who can prove they are legally in the United States. It was passed after the Sept. 11 terrorist attacks to strengthen rules for identification needed at airports and federal facilities.

Washington lawmakers passed a measure last year creating a two-tiered licensing system that was signed into law by Gov. Jay Inslee.

Washington state already offers, but does not mandate, enhanced driver's licenses and IDs that require proof of U.S. citizenship and are valid under the federal law.

DOL also provides this chart to help you choose which license you will need -- either standard or enhanced.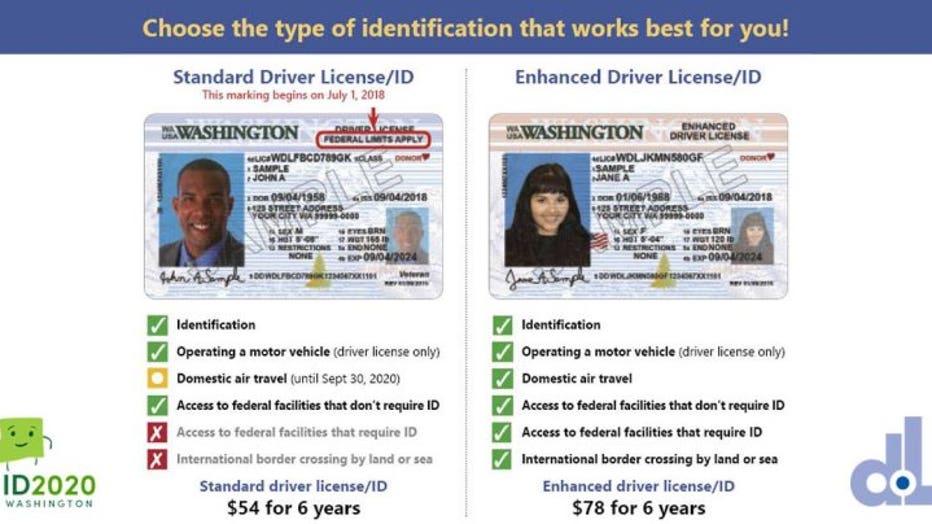 Washington State Department of Licensing