Vandals damage 2 granite Chinese lion 'treasures' in Tacoma park


TACOMA -- Police are looking for the vandals who damaged two granite Chinese lion statues in a Tacoma park.

"I was sad, frustrated and, in fact, puzzled," said Lihuang Wung. "Why would anyone make the effort?"

Two granite lions -- carved out of single stone -- guard the Chinese 'Ting' or pavilion on the Tacoma waterfront, part of the Chinese Reconciliation Park.

Engineers from Fuzhou, China -- one of Tacoma's sister cities -- built and dedicated the pavilion in 2011. Two of the prize pieces in this project were male and female lion statues.

"The mouth was smashed, there was a tongue, which was broken, the lower lip, upper teeth," Wung said.

Before and after photos show what the vandals were after -- the balls carved in the mouths of the lions.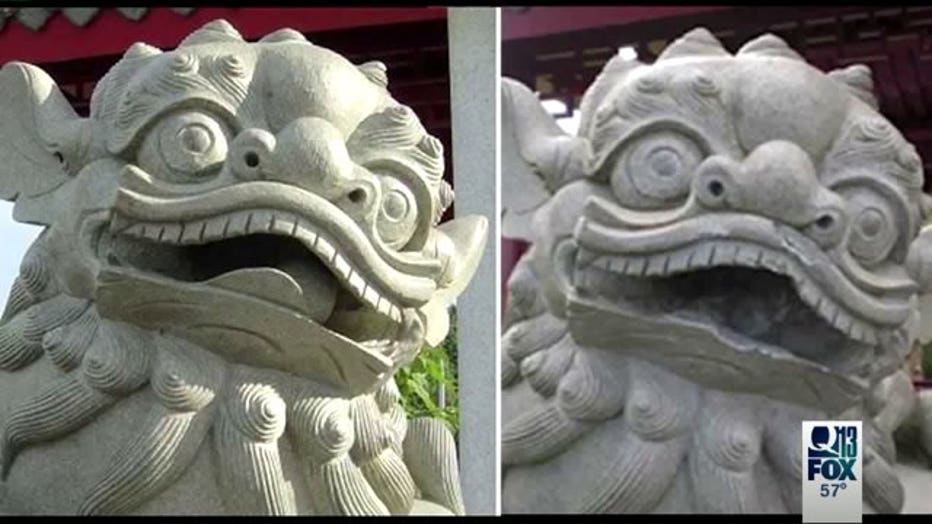 "The ball that was originally carved from within was taken away," he said.

The park and pavilion were built to recognize the expulsion of 200 Chinese immigrants from Tacoma in 1885. The Ting is a gift from Fuzhou, China.

In Chinese culture, lions guard these structures to ward off bad energy. Wung says they're priceless.

"These lions were carved out of one piece of stone and they are irreplaceable, they are treasures," he said.

In the next few weeks, the city will bring in experts to try to repair the damage.

Right now, police have no suspects in the case.