Vandal forces Covington to cut down Christmas tree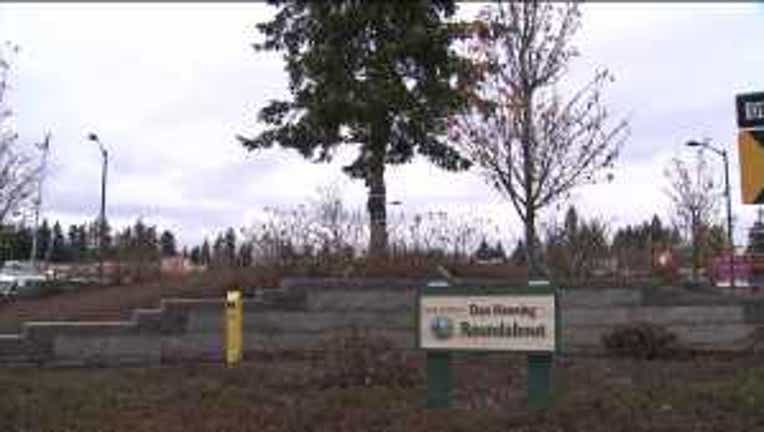 article
COVINGTON -- City officials in Covington had to cut down the city's 35-foot tall holiday tree on Saturday after someone nearly sawed all the way through the spruce's trunk.

Police were called to investigate a report of someone trying to cut down the tree early Saturday morning. When officers arrived at the tree, located in the Don Henning Roundabout on 168th Place, they found a deep cut at the base. A metal wedge and a sign were found nearby, but the suspect had already left.

"We're going to try to do everything we can to recover evidence from the items," stated Covington police officer Kyle Riches.

City officials estimated the cut sliced through about 80% of the tree.

With just hours before the city's annual tree lighting ceremony, local leaders decided to go through with event before eventually cutting the tree down.



City workers wrapped the tree in plastic and took extra measures to ensure the tree wouldn't fall.

At 5:00pm, crews flipped the switch on the tree to the delight of hundreds who had gathered to watch the event. By then, the ceremony had taken on a whole different meaning.

"We needed to show support for the community and it was pretty terrible what somebody tried to do," said Covington resident Jeff Fescher. "I figured we should take everyone down here and enjoy it."

Covington Mayor Margaret Harto addressed the crowd before the tree was lit up.

"This will be the last time we light this holiday tree," Harto said.

Minutes later, workers cut the damaged tree down. Arborists said the extent of the damage was so severe, the tree wouldn't have survived.

"That damage is a death sentence for the tree," said Bill Fealy, who works on the city's arbortist and maintenance crew.

City officials estimated the tree's value at about $10,000. Additionally, about 3,000 lights were damaged in the process, some of which were purchased by donations to honor victims of domestic violence.

Mayor Harto said, even though she's upset about the act of vandalism, it's important to remember the virtues of the holiday season.

"This is a season for giving. Maybe it's also a season about forgiving," said Harto. "Whoever did this needs to be thought about."

The city plans to eventually replace the tree by the end of next week.

Police say such an act of vandalism qualifies as a felony. They're hoping someone in the community knows who did it and will come forward.