UW star Shaq Thompson to enter NFL Draft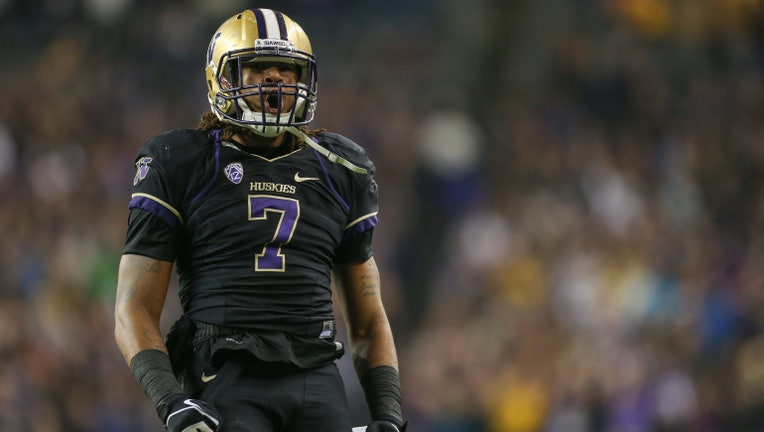 article


SEATTLE -- An All-American for the University of Washington will forgo his senior year and enter the 2015 NFL Draft.

Shaq Thompson, a junior from Sacramento, Calif, announced Monday he would enter the draft.

Thompson had a particularly strong 2014 season, earning the Associated Press' first-team All-American and won the Paul Hornung Award in 2014. He scored four defensive touchdowns and rushed for 100 yards in each of his two starts at tailback for the squad.

Thompson released this statement to fans:

Dear Husky Nation,

After careful prayer and consideration and speaking with my family and Coach Petersen at great lengths, I have decided to declare for the 2015 NFL Draft. This was not an easy decision for me, I love the University of Washington, and everything the U-Dub community has done for me these past three years.

I personally want to thank Coach Petersen and his staff, Coach Steve Sarkisian who recruited me and gave me this tremendous opportunity; all of my teammates who I love like brothers and have forged lifelong friendships with. And last but certainly not least, our fans and Husky Nation. You guys have been there for us each and every game and this was without a doubt the best place on Earth to play college ball.

I also want to thank my family who has been extremely supportive during my college career and especially during this difficult decision. I know that they'll continue to be an important part of my journey and I'm so thankful for their guidance and love.

I feel that I have accomplished a lot here in these past three years, and I'm so thankful to everyone for helping me achieve my goals. Now I'm looking forward to achieving a new set of goals, facing new challenges that come with being in the NFL. I'm excited to start the draft process, the next chapter in my life, but will forever and always be a Husky!

Go Huskies!
Shaq

UW Coach Chris Petersen, who only coached Thompson for a single year following the departure of Steve Sarkisian, congratulated the star player following his announcement.

"Shaq Thomspon has been a wonderful representative of the University of Washington and the Husky football team," Petersen said. "He has our full support as he takes this important step. I look forward to what's to come for him and to watching him embark on what will be a long, successful NFL career."

The Huskies finished 8-6 in 2014, including a loss Friday to the Oklahoma State Cowboys.