UW researchers working to revolutionize power production
SEATTLE -- If you thought solar panels on your house were out of your budget, just wait. In the not-too-distant future, nearly every backpack, gizmo, hoodie, roofing shingle and awning over your back deck might all be able to generate electricity.

It's all thanks to a new way to make solar cells that generate electricity from the rays of the sun.




"A lot of what we're talking about is printing and coding," says Devin MacKenzie. He's technical director of Washington Clean Energy Testbeds, which is part of the Clean Energy Institute at the University of Washington. "Instead of making things from silicon chips, now we're talking about printing things from ink."

But, it's not just any ink. It's a new material that's about five years old called perovskite (pronounced per-OV-skyte).  It's hard to believe the messy looking roller of plastic film could be the future of energy production. Researchers say perovskite is just as effective as turning sunlight into energy, but the process to make it is takes much less energy.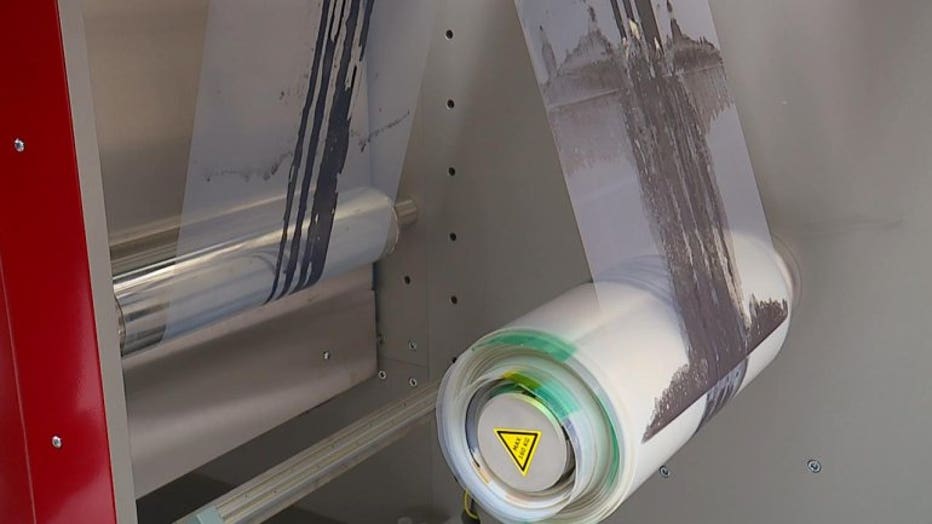 Traditional silicon solar panels are created in a multi-stage, energy-intensive process that involved temperatures more than a thousand degrees Celsius in special clean room facilities. This new printing process bakes the perovskite cells at about 80 degrees. The end product is lightweight, flexible and could be used on nearly anything.

"They add totally new form factors onto ultra-lightweight roofs, rolling them out onto walls or windows, or even onto backpacks and clothing or wearable electronics," says MacKenzie.

What makes this facility at the University of Washington's Clean Energy Institute unique is that it serves as a bridge between UW researchers and getting actual new solar products sold commercially in a few years instead of the few decades that it's taken historically to get new technology to the market. And hopefully weening society off of fossil fuels once and for all.

"We can't wait 20 years for a breakthrough material to get to the marketplace in the climate that we're in now," says Dan Schwartz. He's the director of the UW Clean Energy Institute. "We need to disrupt the traditional energy structure that's producing greenhouse gasses."

The perovskite cells are certainly not ready for prime-time. Researchers at this Seattle lab and others around the globe are working on different printing methods for the perovskite cells. Varying density and time in the ovens and other variables to hopefully find the perfect mix which has the most conductivity for optimal electricity production. Right now complaints about perovskite solar cells is that they're not durable enough or long lasting enough-- yet.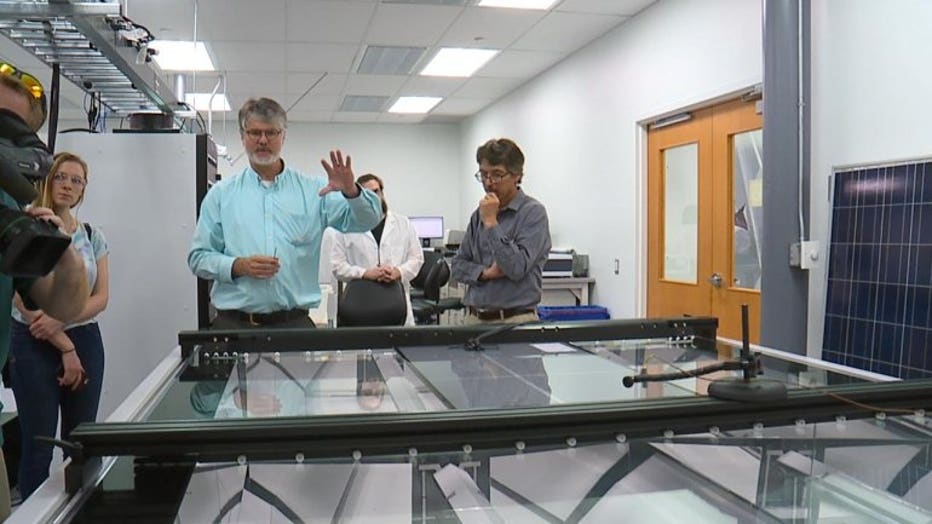 Devin MacKenzie (Left) and Dan Schwartz (far right) show off one of many devices on site used to test the effectiveness of solar devices.


Their open-access lab means these expensive machines could be rented for a few hours for little start ups or giant corporations to try out product ideas. It would mean for them investing thousands of dollars instead of millions. The idea is that the more concepts that get tested and refined -- the more breakthroughs are possible.

"I think it's revolutionary," says Schwartz.

The Washington Legislature helps fund the Washington Clean Energy Institute with their investment of $8 million in taxpayer dollars in the facility.

The CEI is also working on how to better store that solar energy in the form of new battery technologies. And also in more efficient ways to get electricity from solar panels to the electricity grid itself.