Urban wildfires popping up as dry, hot weather continues


AUBURN, Wash. - Firefighters have been spraying water on hot spots along Auburn's west hill since Saturday night after a brush fire grew to about 20 acres and came close to homes nearby.

"People think it's just brush, but this stuff catches and spreads so fast," said Claudette Elliott who lives nearby.

She says in the 20 years she has lived in this area, she can't remember the last time a fire came close to homes.

"I did see a couple trees go up. The flames were pretty high," said Elliott. "You never think it's going to happen here, not surprised in that it has been very, very dry and I've always wondered about this hill and what would happen if it caught on fire."

Firefighters say they're seeing more of these urban type of fires.

"It is bone dry right now, and it's going to get hotter and drier," said Brad Thompson with the Valley Regional Fire Authority.

Thompson says the humidity in the evening last night helped control the brush fire.

Firefighters were using hand tools on the hillside to dig out hotspots in case the fire breaks reignites.

"I am definitely concerned," said Krishawn Walker who lives nearby.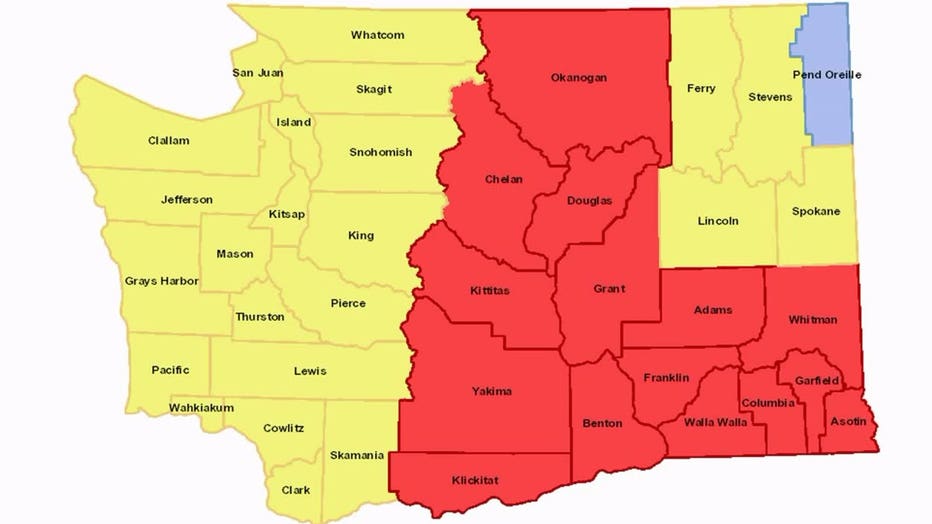 With all 39 counties in Washington under a wildfire state of emergency, neighbors are hoping the mop-up work Sunday keeps the brush at bay as temperatures are forecasted to hit 90 again this week.

The cause of this brush fire is still under investigation. West Valley Regional Fire Authority says as conditions remain very dry to use extra caution with smoking materials, grills or any open flame or sparks that could ignite dry vegetation.

Meanwhile, other fires continue to burn in other parts of Washington.

A lightning-sparked fire near Twisp, Washington, has burned about 12 square miles, but had minimal movement overnight.

The fire burning in the Crescent Mountain and Gilbert areas was producing a lot of smoke, but no immediate evacuations were in effect Sunday morning. That could change if the wind picks up.

The Associated Press contributed to this report.