Updates slow, frustration mounts as search enters 7th Day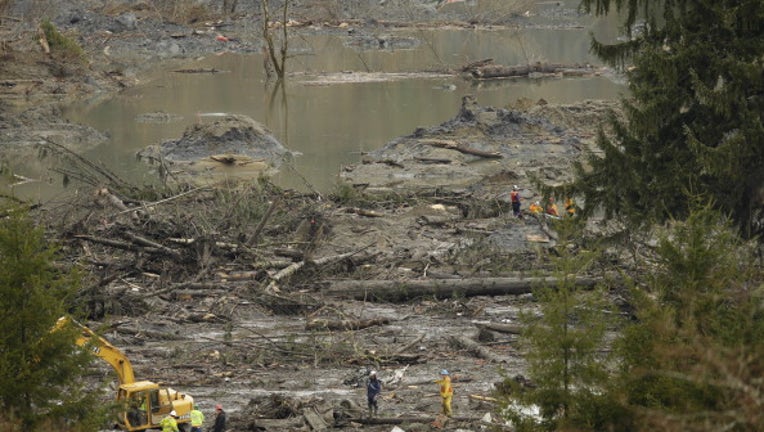 ARLINGTON -- As hope for survivors fades in the seventh day of the Highway 530 Mudslide rescue and recovery operation, Snohomish County officials declined to release updated numbers on the amount of bodies found so far in the slide Friday morning.

The official number of bodies found in the slide remained at 17 Friday, even as officials said updated numbers would come down soon. Ninety people were still considered missing in the slide.

Unofficial accounts have the number of bodies found hovering around 25, with other media outlets reporting more as they receive word from individual family members. However, officials would not confirm the number, saying bodies needed to be identified by the Snohomish County Medical Examiner's Office before updated numbers are released.

Snohomish County Fire District 21 Chief Travis Hots said indeed more than 17 bodies have been found, but he couldn't give "the numbers on site." Hots promised anxious reporters an update, as well as a list of names of the 90 missing at a press conference at 6 p.m. Friday.

The beleaguered fire chief said the weather and elements would continue to hamper rescue and recovery efforts Friday.

"The rain and wind will complicate things for responders," Hots said. "We have a hard day ahead of us."

Hots and Snohomish County Department of Emergency Management Director John Pennington said they did not know if any new victims had been found Thursday.

The massive mudslide struck after 10 a.m. Saturday near the rural, tiny town of Oso, about 55 miles northeast of Seattle, and took out at least 35 homes and a portion of State Route 530 without warning. It also dammed part of the North Fork of the Stillaguamish River.

The debris field is spread over one square mile, and the mud is up to 40 feet deep in places.  The state Department of Natural Resources said the landslide volume is estimated to be as much as 6 million to 7 million cubic yards of material consisting of sand, silt, and clay.

Some survivors on the outskirts were rescued in the immediate aftermath of the slide, but no one has been found alive in the debris field since then.

More than 200 people, and specially trained dogs, are searching for survivors and victims.  Officials said the dogs have been the most help in finding victims.

Washington National Guard members joined the search Wednesday on the west side of SR 530 near Arlington. The Washington Task Force of volunteers and rescue workers searched the east side of the slide.

Mental health services were set up for victims, families and anyone else affected by the slide, officials said Wednesday. A crisis care hotline was set up at 800-584-3578. A family assistance center opened for family members who had lost a loved one. And donations centers in Arlington continued to take in food, clothes and cash donations.