Unique metal 'knight' found under a bush in Seattle: Do you know the owner?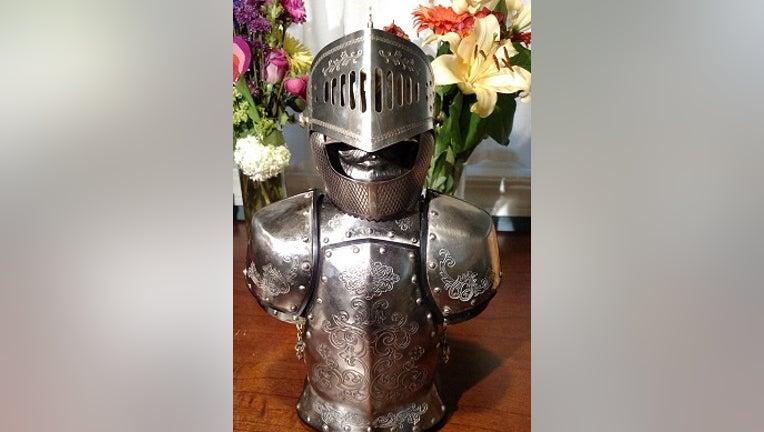 article
SEATTLE  --  Many of us have family heirlooms -- items that are precious to us, but that most people wouldn't give a second glance.

A local family stumbled on a unique item that fits that bill and they want to return it to its rightful owner.

Two days ago, the Latta family found something very peculiar on their family walk.  A very old metal bust of a knight, poking out of a laurel bush in Olympic Hills, at the corner of 30th Ave NE and 137th.

Inside is what appears to be an antique decanter.

"We often find, unfortunately, things that have been discarded.  Whether it's stolen mail or people who have thrown their garbage on the side of a road," says Katy Latta.

Katy's husband did some research online and discovered similar items are worth well over a hundred dollars.  Concerned it might be a family heirloom stolen from a recent burglary, he took to social media, posting an alert on Nextdoor.com -- a website that connects neighbors.

Seattle police say it's quite possible this could be a castoff from a recent crime. There have been four home burglaries in Olympic Hills in the last three weeks.

"It's not a toy. That is real metal.  It's not chintzy plastic. It's a real metal chain-link hardware. It's nice," says Katy.




The Lattas say the experience hasn't just brought the community closer together, it's also an important lesson for their 5-year-old daughter.

"She's pretty excited to be able to return it and so are we actually. It doesn't necessarily go with our decor," Katy jokes.

"It's been really great to be able to reach out that way, and to know that in a big city, we aren't just somebody on the street. We are part of the community and that's really amazing," says Katy.

Anyone with information on the piece can contact the Seattle Police Department.  They applaud the Latta family for being so proactive.

Police also want to remind everyone if you see something suspicious in your neighborhood or if you are the victim of a crime, be it mail theft or car or home burglary, report it so they can follow up.