Union plans to file suit Monday to try to block NBA/NHL arena in Sodo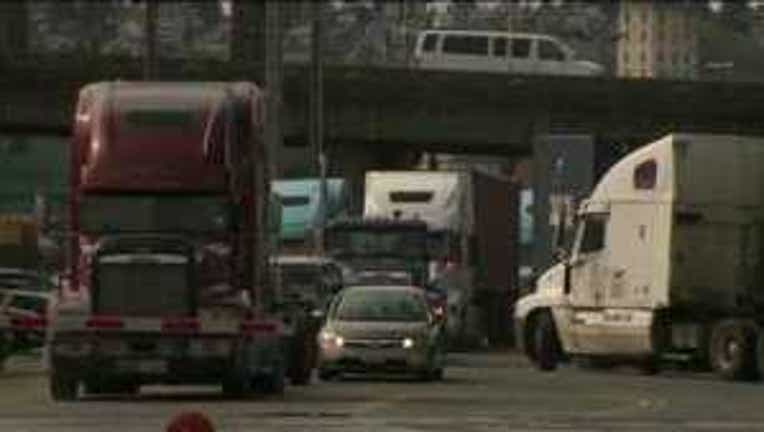 On Monday, the Seattle and King County councils are expected to approve a $490 million NBA/NHL arena proposal and push the project forward. However, the longshoremen's union said it will file a lawsuit the same day to block the plan.

Investor Chris Hansen has proposed building the arena in Seattle's Sodo district, near the Port of Seattle, to bring the Sonics back to Seattle.

After amending the original Memorandum of Understanding on the deal with Hansen, the Seattle City Council and King County Council are poised Monday to give the MOU final approval, pending an environmental review.

But the president of Local 19 of the International Longshore and Warehouse Union, Cameron Williams, said it would file suit Monday to stop the project.

"We cannot stand idly by while Mr. Hansen and his well-connected lobbyists, along with our elected officials, build an arena in a location that threatens the livelihood of our members and many other workers in the maritime industry and Sodo."



The union says a new arena would create traffic problems and cost jobs, and it accuses the councils of not looking at alternative sites for such an arena.

The state environmental review, known as SEPA, is supposed to consider other locations, but the union local said, "Because only the Sodo site is acceptable to Mr. Hansen, the SEPA alternative process will be a sham."

In response to the lawsuit announcement, King County Council's Joe McDermott said, "I think we`ve all been careful to make sure we have a full, transparent SEPA process."

McDermott said that includes looking at several other potential arena sites Still, he said, he`s not surprised to hear of a lawsuit.  He said the threat of a lawsuit will not stop Monday`s votes.

"This gives us the opportunity to perhaps bring back an NBA team, the Sonics, to Seattle and NHL hockey as well," McDermott said. "Yet we`re still making sure we`re doing our careful work to make sure we have a full analysis of this site and more than would be typically required."

Seattle City Attorney Peter Holmes' Office issued a statement:

"Approval of a Memorandum of Understanding (MOU) on the sports arena proposed by businessman Chris Hansen ...  would launch a thorough vetting process of multiple factors, not preordain that any complex will be built in the Sodo area.

"In response to the local longshoremen's union's stated intent to oppose the plan in King County Superior Court, Holmes emphasized that the MOU would not bind the city or county to Hansen's proposal but rather allow Seattle and King County to consider that proposal among other alternatives."