Union leaders hold solidarity rally ahead of Boeing contract vote


SEATTLE --- Union leaders with the Machinists Union local 751 will hold a rally outside of its Seattle headquarters at 4 p.m. Thursday, urging its members to vote no on the latest contract offer from Boeing.

Thursday) is the deadline for absentee ballots to be mailed out to be counted for the upcoming vote.

According to the Union leadership for the Machinists Union local 751, absentee ballot requests must be made via email by no later than noon today.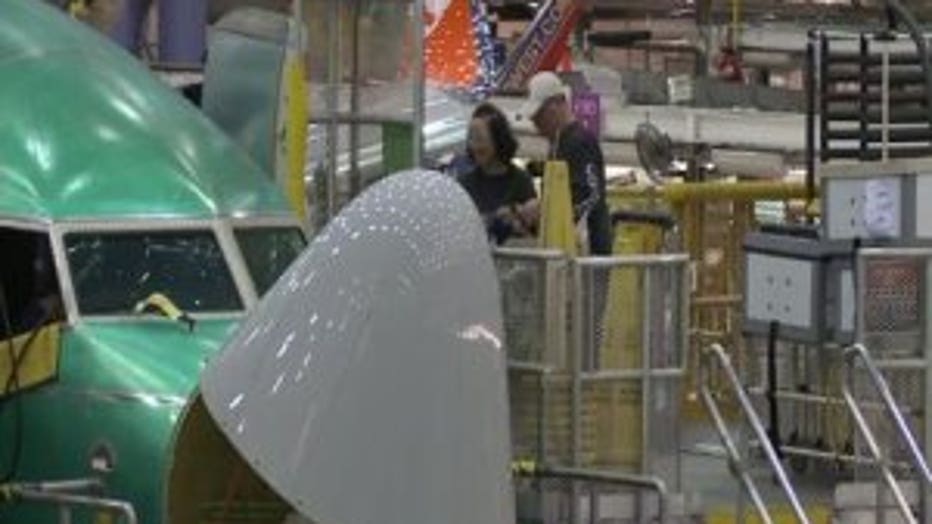 Machinists union members will head to their local union halls to vote on a new contract offer from Boeing on Friday.  The contract would increase healthcare costs and cut pensions, favoring instead a 401k retirement plan.  The pension change has been a major sticking point for local union leaders who continue to urge its members to vote "no" on the contract offer.

If the machinists accept this contract offer it would guarantee decades of work and guarantee that the new 777x would be built in the Puget Sound.

On Monday, local leaders including mayors from Kent and Everett held a press conference urging the machinists to vote yes, saying the future of Boeing's presence rests directly in the hands of union employees.

"There is no option here other than a yes on the contract or else we're all in this together.  We will see the demise of the economic stimulus that Boeing has provided us," Kent Mayor Suzete Cooke said.

Boeing has repeatedly stated if the union votes down the contract offer they will look elsewhere to build the 777x.

Union leaders argue that the latest offer will have a major impact on its members.

"Our best estimates is this is going to lower our members retirement income by 2/3rds," Union rep Bryan Corliss said.

Corliss said Boeing would be making a huge mistake if they decide to build the new jet elsewhere. "All of the objective industry analysts, third party research says that Washington State, Puget Sound, is the best place for Boeing to build the 777x.  It's their best bet for success with this program," Corliss said.

Local union leadership is at odds with its national leadership.  Recently, the president of the Machinist Union, Tom Buffenbarger said the workers may want to consider having their pensions frozen or face the reality of losing jobs in the future.

In November, the machinist union workers voted down the last contract offer from Boeing by 2-to-1. The pension was the big sticking point, which still remains the biggest issue with this latest vote.