Uber drivers form their own union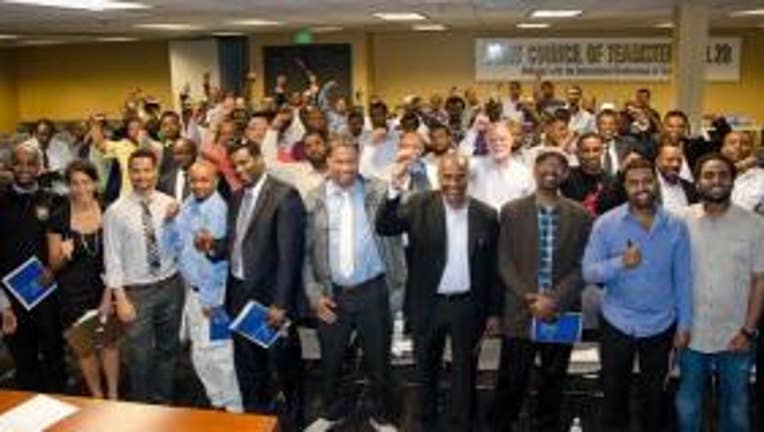 article
SEATTLE - The city of Seattle is still trying to figure out how to regulate rideshare companies like Uber, Lyft and Sidecar. But drivers aren't waiting to see what happens. Today, they created their own association to protect themselves in future negotiations.

For months, rideshare drivers have been flooding city council meetings and talking about the benefits of these new app-based companies that provide an alternative to taxicabs. But it turns out, not all drivers are happy.

"Uber is a great company, but Uber has some wrinkles that need to be ironed out," says driver Zerfu Tiruneh.

"There are some things we`d like the company to step up and take responsibility," adds driver Daniel Ajema.

They say right now, the company can suspend or terminate a driver if they get a bad rating from a customer. They don`t want to eliminate the rating system.

"We like that, that keeps quality going," says Ajema. "But the company never told a driver why they got a bad rating, or who gave them. And they should give them an appeal process to challenge that before they`re let go."

Drivers also want more of a say, when it comes to how the company operates or negotiates in certain cities. So today, they worked with Teamsters Local 117 and formally created the App-Based Driver's Association (ABDA).

"I think a union is the best way to go for us drivers," says Tiruneh. "We are in a no man's land, and we need to come up together united."

But being organized doesn't clear up the issue of whether these drivers can stay on the road in the city of Seattle.  Mayor Ed Murray has given the rideshare companies until the end of the month to reach an agreement over new regulations that include a cap on the number of drivers allowed at a given time. If they can't find a compromise, he may order the companies to stop operating until voters can decide the issue. Drivers are split on what that could mean for their future.

"We hope to stay here. I don`t think what is going on with the city will affect us that much," says Ajema.

"We`ll see, it remains to be seen," says Tiruneh.