U.S. Marshals in WA and AZ coordinate arrest of fugitive wanted in Lacey armed robbery


Phoenix, Ariz-  The USMS led Arizona WANTED Violent Offender Task Force arrested Dominic Blackburn, 23, near the area of The I-10 and 91st Ave. in Tolleson, Arizona on Friday, July 21st,. Blackburn was wanted out of Thurston County, WA, for Robbery in the First Degree.

According to the charges, Blackburn robbed the victim by posing as an individual looking to trade a cellphone using a popular buy/sell phone application. It is alleged that Blackburn robbed and violently assaulted the victim by luring him away from his vehicle and striking him repeatedly with a pistol before fleeing the area. Blackburn also has an extensive criminal history to include Burglary, Assault and Drug convictions.

The U.S. Marshals Pacific NW Violent Offender Task Force in the Western District of Washington adopted the case in May and investigators started working leads. A major breakthrough came from an anonymous tip to Crime Stoppers from a "Washington Most Wanted" viewer, where it was determined that Blackburn was potentially hiding out in the Phoenix Metropolitan Area. After receiving the information from the Pacific Northwest Violent Offender Task Force, the USMS led Arizona WANTED Violent Offender Task Force members immediately acted on this request, and were able to locate and identify Blackburn at an apartment complex in Tolleson. Contact was made with Blackburn at the apartment where he was ultimately arrested without incident and set for transport to the Maricopa County 4th Avenue Jail to await his return to Washington.  He is Washington's Most Wanted capture #902 thanks to tips from our viewers.

"Blackburn is a convicted felon who is alleged to have pistol whipped and robbed his victim over a cell phone transaction, set up on a popular on-line app," said David Gonzales, U.S. Marshal for the District of Arizona. "Buying and selling merchandise from mobile apps is convenient, but can also be dangerous."

Utilizing apps such as "OfferUp", "Craiglists", "Letgo", and "5miles" can be very effective in buying, selling, and trading personal items, but have risks. The U. S. Marshals Service recommends that when conducting on-line transactions with strangers to take some safety precautions:

* Choose a well-trafficked public location like restaurants, malls, a police station parking lot. * Conduct the transaction during daylight hours. * Bring another person with you. * Confirm identity of person you intend to do business with. * When transaction is completed ensure you are not followed. * Verify the other person's contact information. * If uncomfortable at any time, walk away.

The United States Marshals Service is the nation's oldest federal law enforcement agency. Annually, U.S. Marshals arrest more than 50 percent of all federal fugitives and serve more federal warrants than all other federal agencies combined. For more information on USMS Fifteen Most Wanted fugitives and USMS Major Cases, go to www.usmarshals.gov .

ORIGINAL STORY: 
Lacey police are asking for the public's help to find convicted felon, Dominic Blackburn, who is also known as 'Sneako' and is now accused of pistol-whipping and robbing a man.

Detectives say Blackburn used a popular buy/sell app to target his victim -- a victim who now says he wants to warn others. "You gotta be safe and protect yourself, you can't put yourself in a  situation where you can be hurt," warns Kyle Andrews. He learned that lesson the hard way after he was robbed at gunpoint in the parking lot of the Regal Cinemas in Lacey. He thought he was meeting a woman he met on 'OfferUp' to trade his Samsung for an iPhone. Instead -- detectives say Blackburn showed up. "Blackburn told him, 'Hey, I'm a friend of the female and I'm here to do the transaction, because she was too nervous to meet,' said Lacey Police Det. Jimmy Williams. "Through investigation, we noted that that female had nothing to do with the crime."

Andrews says Blackburn asked him if he could use his phone to call his girlfriend. "And I said, 'Ok, here, call her and you can make sure the phone works too, you know.'" All the while, Blackburn was luring Andrews away from his car and across the parking lot. "My friend was in the car and I told him, 'Turn off the car, roll up the windows and follow,' because I felt a little off. I said, 'Something isn't right.'"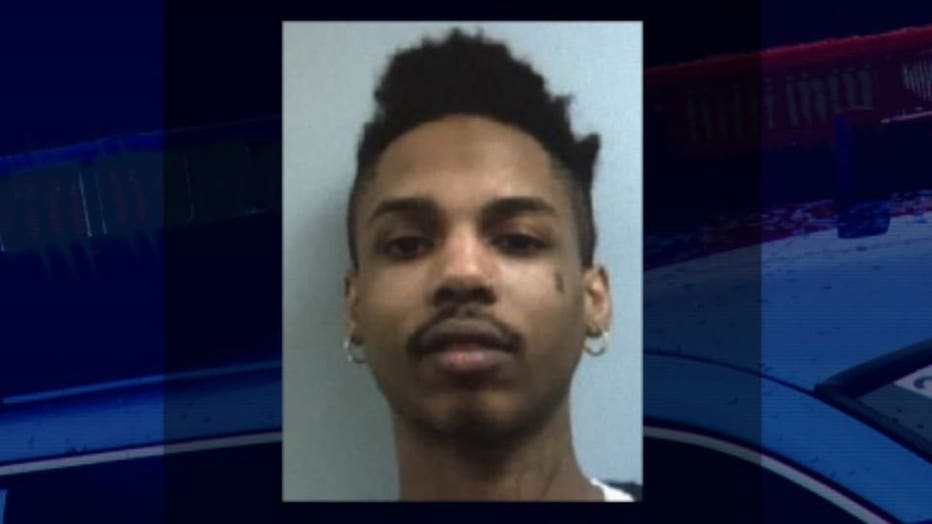 Andrews says when he turned his back to talk to his friend, Blackburn struck. "He leaned forward and hit me with the gun."

Detectives say Blackburn then fled the scene and was gone when Lacey officers arrived -- but not before Andrews says Blackburn threatened him. "He's like, 'If you call the police, I'll shoot you' and I said, 'Call the police.'"

Lacey Police have dealt with Blackburn in the past. He has felony convictions for burglary and drugs, but say this is the first time a handgun has been used. "His crimes are escalating now. We don't want it to get even worse than this. We really want to get him into custody at this point so nobody else will suffer what the victim has suffered," said Det. Williams.

Andrews is hoping others heed his warning: That even if you think you are safe meeting in a public parking lot -- you're not. Instead, meet outside a police station.

"I want them to catch the guy. I don't want him to do that to anybody else and I want it to end with me."

'Sneako' is 22 years old, 5'10", weighs 175 pounds and has a ton of tattoos, including that dollar sign you see below his left eye.

If you know where he's hiding, call Crime Stoppers at 1-800-222-TIPS, or use the P3 Tips App to submit your information to Lacey Police. It's anonymous and you'll get up to a thousand dollar cash reward if your tip leads to his arrest.