U.S. diplomat apologizes after dropping F-bomb in talking about EU
Los Angles Times & CNN

MOSCOW -- Russian officials on Friday denied they were behind the eavesdropping and Internet posting of an embarrassing phone call between two top U.S. diplomats discussing a response to the political crisis in conflicted Ukraine in which one can be heard saying, "f**k the EU."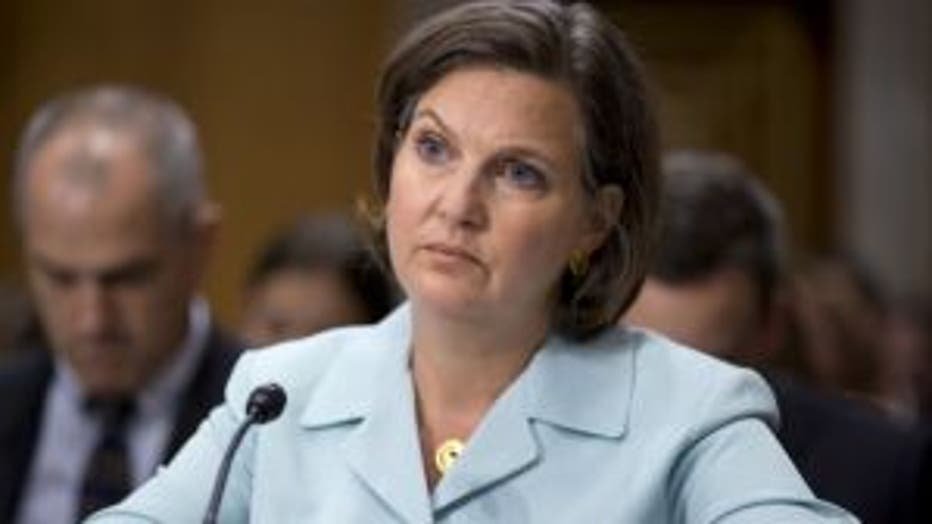 Assistant Secretary for European Affairs Victoria Nuland (Photo: Getty Images)


But Russia's state-controlled media gleefully played up the scandalous conversation all day in a clear effort to cast Washington as a meddler in Kiev's domestic affairs.

The clandestinely taped conversation between Assistant Secretary of State Victoria Nuland and Ambassador to Ukraine Geoffrey R. Pyatt caught the envoys candidly "strategizing" on how to effect a political turnover in Kiev, said Russia Today television as it played and replayed the conversation.

The recording contained in a video posted online by an aide to Russian Deputy Prime Minister Dmitri Rogozin on Wednesday included a disparaging comment by the voice about the European Union's handling of Ukraine's months-long political showdown. Nuland -- who the State Department says has since been in touch with EU officials to apologize -- uses the blunt expletive when expressing frustration to Pyatt with the EU's differing views on the best opposition figures to succeed embattled Ukrainian President Viktor Yanukovich.

White House spokesman Jay Carney suggested Thursday after the compromising tape emerged that it was the handiwork of Russian intelligence. State Department spokeswoman Jen Psaki called the video "a new low in Russian tradecraft."

The Rogozin aide who admitted he posted the video, Dmitri Loskutov, denied on Friday that he was acting on official instruction or capacity.

Rogozin issued a similar denial via a Russian Twitter-like microblog, accusing Westerners of weaving "little intrigues" while Moscow tries to help restore social peace between urban Ukrainians wanting closer ties with the EU and rural, Russian-speaking residents preferring to maintain traditional economic alliance with Russia. Protests have paralyzed Kiev for more than three months and undermined Yanukovich's weak hold on power in the deeply divided country.

European Commission President Jose Manuel Barroso declined to comment on the leaked recording that was a slight against EU foreign policy chief Catherine Ashton.

"Intercepted private conversations aren't part of the toolbox that we use to assist Ukraine," said Barroso's spokeswoman, Pia Ahrenkilde Hansen.

But a spokeswoman for German Chancellor Angela Merkel was less reticent. Nuland's comments were "absolutely unacceptable," Christiane Wirtz said in a statement from Berlin. She said the German leadership thought Ashton was "doing a marvelous job" in tackling the thorny Ukrainian crisis.

The State Department's Psaki said, "It is no secret that Ambassador Pyatt and Assistant Secretary Nuland have been working with the government of Ukraine, with the opposition, with business and civil society leaders to support their efforts, and it shouldn't be a surprise that at any point there have been discussions about recent events and offers and what is happening on the ground."

She added that Nuland had apologized to her EU counterparts.