U.S. Census: Seattle 5th fastest-growing large city in U.S., with nearly 21,000 new residents in 1 year
SEATTLE -- The U.S. Census Bureau on Thursday listed Seattle as the fifth fastest-growing large U.S. city by numeric population increase.

In a news release, the Census Bureau said the estimated figures cover the time between July 1, 2015, and July 1, 2016. It showed Seattle's population grew by 20,847 people during that time for a total of 704,352.

In that same category, Phoenix ranked No. 1 with a population increase of 32,113 for a total of 1.615 million; Los Angeles was second with a numeric increase of 27,173 people for a total population of 3.976 million; San Antonio grew by 24,473 people for a total population of 1.492 million; and New York was fourth with 21,171 additional people for a total population of 8.537 million.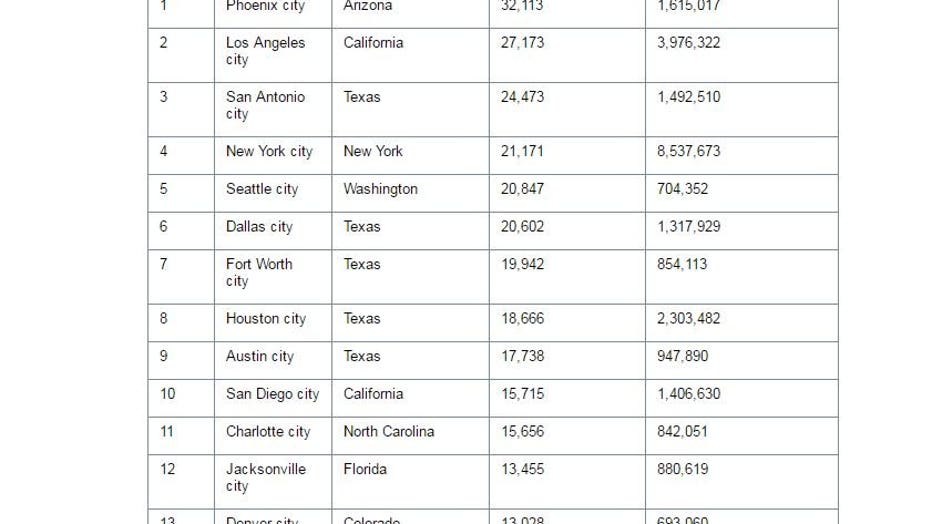 The Census Bureau said that, based on percentage growth,10 of the 15 fastest-growing large cities were located across the South in 2016, with four of the top five in Texas.

It said Conroe, Texas (near Houston), was the fastest-growing large city (population of 50,000 or more) between 2015 and 2016 at 7.8 percent, making its growth rate more than 11 times the nation's growth rate of 0.7 percent. Some of the other fastest-growing cities were: Frisco, Texas (6.2 percent); McKinney, Texas (5.9 percent); Greenville, S.C. (5.8 percent); and Georgetown, Texas (5.5 percent).

"Overall, cities in the South continue to grow at a faster rate than any other U.S region," said Amel Toukabri, a demographer in the Census Bureau's population division. "Since the 2010 Census, the population in large southern cities grew by an average of 9.4 percent. In comparison, cities in the West grew 7.3 percent, while cities in the Northeast and Midwest had much lower growth rates at 1.8 percent and 3.0 percent respectively."

Four cities in the West — Bend, Ore.; Buckeye, Ariz.; Lehi, Utah; and Meridian, Idaho — were among the top 15 fastest growing. Only one city in the Midwest, Ankeny, Iowa, topped the list while no cities in the Northeast were among the nation's fastest growing.

The Census Bureau said later this summer, it will release additional population estimates by age, sex, race and Hispanic origin for the nation, states and counties.