Two years later: Where is Oakley Carlson, and what's being done to prevent similar situations?
OAKVILLE, Wash. - Feb. 10 marks two years since Grays Harbor County Sheriff's detectives say was the last credible sighting of Oakley Carlson, a 5-year-old missing out of Oakville. 
Oakley was living with her foster parents for almost three years before the courts decided in 2019 that she be returned to her biological parents: Andrew Carlson and Jordan Bowers. 
Both Carlson and Bowers have remained uncooperative with law enforcement regarding Oakley's whereabouts. 
Authorities say the circumstances of Oakley's disappearance are suspicious.
Timeline of events
Oct-Dec, 2020
Oakley's grandparents and her elementary school principal last reported seeing her.
Feb. 10, 2021
Investigators say this was the last credible sighting of Oakley seen alive.
Nov. 6, 2021
Court documents: 
Fire breaks out at Carlson home. Parents Andrew Carlson and Jordan Bowers claim Oakley had a lighter on the couch and started the fire. However, investigators determined that the fire likely started in a microwave on the counter, not on the couch. Investigators also say they found clothing and toys belonging to two other children in the house, but not Oakley. Oakley was not at the home when investigators looked around.
Andrew and Jordan, and the two other children, lived in an Extended Stay America after the fire.
Nov. 10-Nov. 24, 2021
Court documents:
The principal at Oakville Elementary had been in contact almost daily with the family since the fire, dropping off supplies and helping them out. She said she had not seen Oakley at any point during her multiple visits.
Dec. 5, 2021
Court documents:
Oakley's 6-year-old sister has a sleepover/playdate at the principal's home. Child said "there's no Oakley" when asked about her sister's whereabouts and well-being.
Dec. 6, 2021
Court documents:
Elementary principal requests a welfare check from law enforcement
Officers respond to the Extended Stay America where the Carlsons and Bowers are staying. Both parents said Oakley was at Andrew's father's home, though he could not provide an address or phone number, despite growing up in that home and living there for 20 years.
Grandparents said Oakley was not staying with them when officers checked.
Oakley is officially reported missing.
May 2022
Gov. Jay Inslee called for a review of the Department of Children, Youth and Families' (DCYF) handling of Oakley's case. Community members and advocates have raised questions on whether there were missteps or shortfalls in Oakley's placement and care, and whether the system tasked with keeping her safe, failed. Advocates also demanded to know why DCYF didn't check on Oakley after she was returned to her parents.
The investigation conducted by Office of the Family and Children's Ombuds (OFCO) found that "the Department's actions and conduct in this case were consistent with laws, policies, and court orders." OFCO did say that the investigation identified areas of improvement, specifically "to preserve and strengthen the parent-child bond when a child is removed from the home."
Andrew Carlson and Jordan Bowers
Andrew and Jordan claimed to have last seen Oakley on Nov. 30, 2021. Neither of them reported her missing. 
The pair were arrested shortly after the welfare check and were later convicted of child endangerment regarding their 6-year-old child, Oakley's sister. Deputies learned during their investigation that Bowers and Carlson had not been providing medication to the 6-year-old as required by her doctor for over a year. 
Andrew was convicted in March 2022 and released in August of that year to a drug treatment program. 
Jordan was sentenced to a year and a half in prison in April 2022, but she was released in January 2023. She was immediately arrested upon her release for fraud charges.
Court documents allege that Bowers was a small-scale fraudster—offering to help set up people's accounts for a 'Dave' credit card, then routing the money to cards she took out in other people's names.
Bowers' scheme was uncovered soon after she checked out of the Extended Stay America and was arrested. 
Andrew and Jordan remain uncooperative in the investigation into Oakley's disappearance, according to deputies.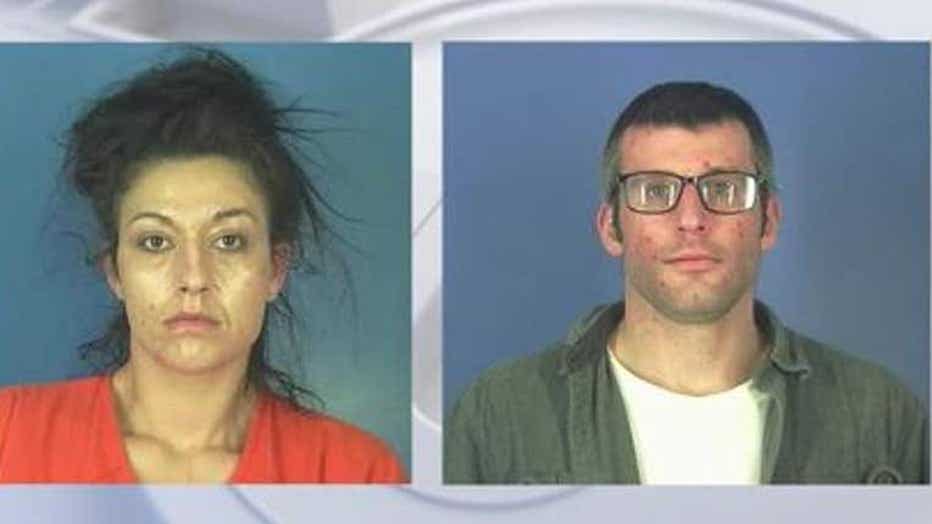 Jordan Bowers and Andrew Carlson
What's next
The reward for information on Oakley's disappearance is now at $85,000.
Her foster mom, Jamie Jo Hiles, has been leading the charge to find Oakley and make changes in Olympia regarding system failures that allowed Oakley to be missing for nearly a year without raising any alarms. 
In January 2023, House Bill 1397—also known as the 'Oakley Carlson Act,' was written by Representative Jim Walsh of the 19th District. The Oakley Carlson Act outlines a number of changes intended to protect children who have been removed from a parent based on abuse, neglect or abandonment.
"[The Oakley Carlson Act] will not only prevent this kind of thing from happening again, but if this kind of thing does happen again, it'll put us in better a position to find the missing child," said Walsh.
"Unfortunately, there were several times when Oakley wasn't with us. I would try to warn DCYF that something wasn't right, something was amiss, and unfortunately, I just wasn't heard," Hiles said at a rally for HB 1397. 
The bill is scheduled for public comment before the House Committee of Human Services on Feb. 17.