Two teenage girls lift 3,000-pound tractor off of father


LEBANON, Ore. (KPTV) -- Two teenage girls may have saved their father's life when they lifted a 3,000-pound tractor off of him.

Jeff Smith was working on the tractor at his home in Lebanon last week when it flipped over and pinned him beneath it.  He screamed for help and his two girls, 14 and 16 years old, came running. Within minutes, they lifted the tractor off of him.

Looking at Smith on Tuesday, with only a cast on his wrist and some abrasions, you might not believe what happened to him.

He said he was trying to pull a stump out of the ground when his foot slipped on the clutch and the whole thing flipped over.

"The steering wheel and the steering column is what had me pinned on my chest," he said.

His daughters quickly arrived at the scene and started digging. Then they called 911.

"I can't dig fast enough and I'm freaking out," said Haylee Smith, 14. "I just cannot dig fast enough."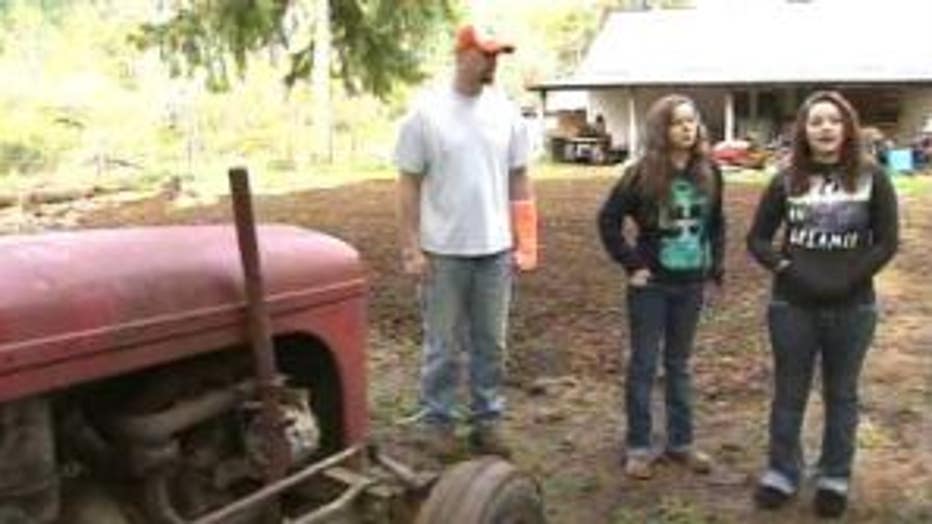 Jeff Smith, cast on his arm, with his teenage daughters in Lebanon, Ore. (Photo: KPTV/Portland)


Deciding they couldn't wait for emergency crews, Haylee and her older sister, Hannah Smith, each grabbed a side and started lifting.

With adrenalin pumping, they tried six or seven times and finally got some movement.

"We just kind of braced ourselves on the tire and just lifted it up," said Hannah Smith, 16.

Jeff Smith said they lifted it up just enough for him to shimmy his way out. His arm remained pinned, however, until a neighbor rushed over with another tractor to finish the rescue operation.

"I don't know how I lifted it, it was just so heavy," Hannah Smith said. "And I could feel it, I could just feel all the weight. But we just did it. We both did."