Two teenage gang members arrested after Burien woman killed by stray bullet, deputies say


BURIEN, Wash. -- Detectives arrested two teenage gang members after a 51-year-old woman was killed by a stray bullet at a chiropractic office in Burien, the King County Sheriff's office says.

King County Sheriff's Office Sgt. Ryan Abbott says the 17-year-old boys were arrested as they left a Burien residence Wednesday night.

The suspects have not yet been identified because they have not yet been charged with a crime. Any charges will be filed by the King County Prosecutor's Office.

Abbott said no other suspects are outstanding.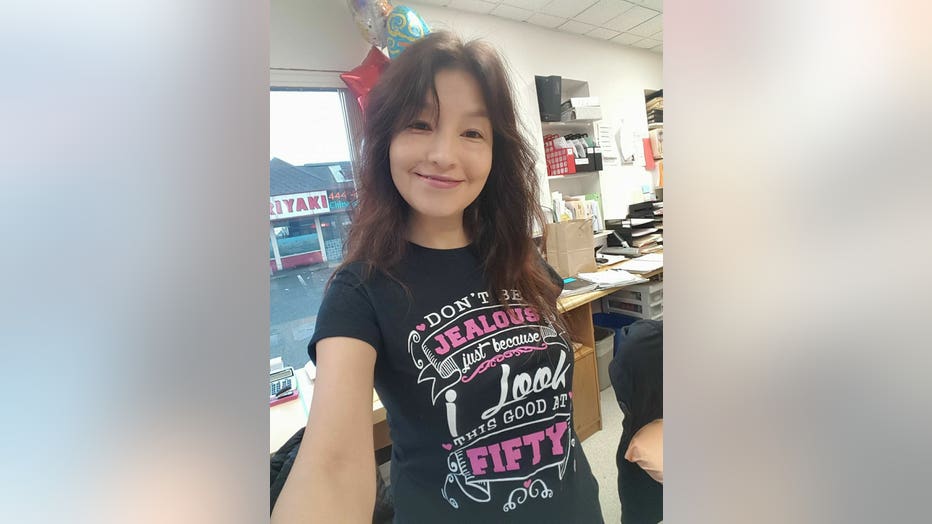 Gabriela Reyes-Dominguez. (Photo via Angelinne Hernandez)


The King County Medical Examiner's Office on Thursday released the name of victim -- Gabriela Reyes-Dominguez, 51. The office listed her cause of death as a gunshot wound to the chest, and the manner of death was homicide.

A Go Fund Me account was set up (click here) to help the family with funeral expenses.

The shooting happened at about 2:45 p.m. Wednesday near Highline High School.

The occupants inside an SUV fired "multiple rounds" at a 39-year-old man and his 15-year-old son walking on the sidewalk in the 15200 block of 1st Avenue South, Abbott said, adding it's unclear if the gunmen were targeting the man or his son, or both.

The intended target was not hit, according to the sheriff's office.

But "one of the rounds went through the window" of the One Source Chiropractic office and "struck the front office worker," Abbott said.

"She was just at work, doing her job, trying to provide for her family and a stray bullet" crashed through the window and struck the woman, Abbott said. "This is extremely tragic."

The shooting happened less than a block away from Highline High School. The school was placed on a lockdown and after-school clubs and athletics were brought inside, a spokesman for Highline Public Schools said.

Burien Mayor Jimmy Matta said he uses this chiropractic office and he knew the workers inside.




The city of Burien released the following statement:

"Earlier this afternoon, a woman lost her life due to a terrible incident of gun violence. We deeply regret this loss of life in our community. This is tragic for the victim and her family. Our deepest sympathies go to the families involved.

"We have full confidence in the Burien Police Department to fully investigate and bring those responsible to justice.

"We recognize this affects the entire community. We will be working with the Burien Police Department and King County Sheriff's Office to keep the community informed and to make sure everyone has the support and assistance they need to get through this difficult time."