Two lucky Seahawks fans win trips to Atlanta playoff game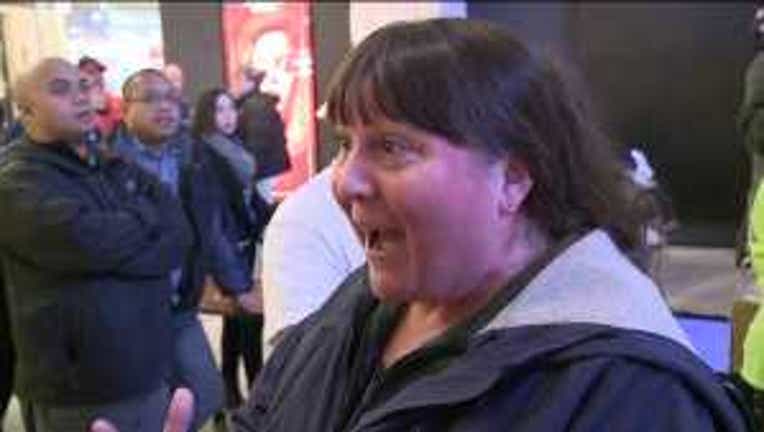 TUKWILA -- Seahawks frenzy took over Southcenter Mall on Wednesday as hundreds of people lined up to win a trip to Sunday's playoff game in Atlanta.

Fans lined up early Wednesday morning  and waited for hours to get inside the mall to buy at least two $5 Scratch tickets in order to get their name in the Washington Lottery drawing for the prize.

At 7 p.m. Wednesday, the first name was plucked from a barrel full of names.



The first of two winners was Gary Holden, who got an excited round of applause as he claimed his prize.

At $10 per entry, Holden shelled out $320. It paid off for the 12th man.

"It`s exciting, I'm shaking, it`s crazy," said Holden.

Auburn resident Tammy Dunlap knows that feeling. She called her husband after her win.

"I told him, I got it! I got it! He kept saying no -- and I hung up on him. I will hear about it all night," Dunlap said.

"I don`t know if I can sleep tonight, I think it`s great," said Dunlap.

Maridee Haugen has been a diehard fan since the birth of the Seahawks.

"It was fun meeting other fans in line doing the wave; we did the wave a couple of times out there trying to keep warm," said Haugen.

She and the others had the golden playoff trip on their minds and the rookie quarterback in their hearts.

One fan chanted,"Russell Wilson, Russell Wilson, Russell Wilson,"

"He can move his feet. He can get through the corners. He can throw the ball with accuracy, it`s exactly the quarterback we need in Seattle," he said.

"They are covering each other`s butts; it`s impressive to see how hard they work," said Linda Gleason.

Fans say this is the Seahawks' year.

"I say we wear our wolf gray jerseys in the Super Bowl," said Holden, who will have a great seat this weekend and he's bringing a friend along with him for the ride. "My friend Earl, Hawk Daddy," said Holden.

When Earl got the news he was going for free, Holden got a text that read:  "Yeah, yeah, yeah, yeah, Seahawks."

Both winners each won a package worth more than $5,000; it includes airfare, hotel  and playoff seats for two.

Washington Lottery says if the team wins on Sunday, they will decide then whether to have another round of lottery drawings.