Two Latino officers look to make inroads in Burien as part of gang-prevention efforts


BURIEN, Wash. - The city of Burien is committed to developing strategies to combat gang violence.

With two rival Hispanic gangs responsible for multiple shootings, steering kids away from gang life is one of the city's top priorities. But language and trust continue to be barriers.

Q13 News' Nadia Romero went on patrol with two officers committed to breaking through these barriers, as a city works through grief, towards helping it's growing Latino population connect.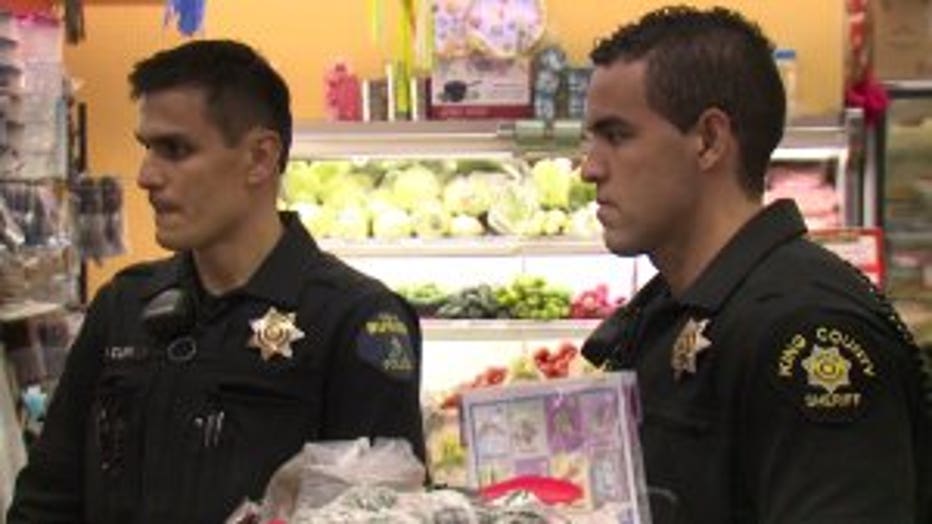 The department is looking for officers who can communicate with a growing immigrant population and officers who have similar backgrounds who can understand and relate to the new residents. Out of the 43 officers in Burien, only two of them - less than five percent - are Latino and Spanish-speaking. That means the department doesn't match the city's growing population of being about 25% Latino.

King County Sheriff's Deputy Carlos Marquez and Burien Police Officer Detective Ricardo Cueva are the definition of community policing. But in Burien, Cueva and Marquez reach out to residents in the Spanish language spoken in many stores and homes, especially off Ambaum Boulevard.

"Most of the shootings that have happened in the last four years, three years, have happened right around the corner," said Burien Police Department Officer Ricardo Cueva.

Just across the street from La Canasta is where 21-year-old Eddie Plata Jr. was gunned down outside an AM/PM gas station off Ambaum in a gang-related shooting.

"I hate seeing the news stories of everything bad that's happening here,  and kind of that paint brush that's being slushed across here for the City of Burien," Marquez said

That shooting happened on the same road where Marquez, 25, grew up.

"This was our first place coming from Venezuela. This is where I first landed. I still remember that day," Marquez said.

His mother feared Marquez becoming a police officer because of how law enforcement is viewed in their home country.

"The police in Venezuela are considered bad because of all their non-ethical things they do - basically bribes and whatnot," said Marquez.

The story is similar for Cueva, who moved from Mexico to Woodinville. His mother was fearful of U.S. police officers, just like she was of the corrupt police south of the border.

"A sheriff's or police car pulled up next to us and we're just sitting there at the light and she said 'be quiet don't say anything there's a police officer next to us,'"  Cueva said.

Both men now wear the badge, committed to being a positive force in Burien and hoping to dispel the real fear some have towards law enforcement.

Cueva says it's up to all officers to change their minds and convince the community they're working on the city's gang problem.

"The Hispanic community wants to know what their police department is doing to help prevent this. They don't want us to be reactive. They want us to be proactive,"  Cueva said.

Soon Cueva will be joined by Marquez when he starts a new assignment as the city's second Latino and Spanish-speaking officer on the Burien Police Department.

"If we're sitting there with the phone laying there and a victim and a deputy looking at a phone and just translating, something is going to get lost in translation or the person is going to become uncooperative and not want to speak any more," said Marquez.

But now they can work as a team to help the growing Latino community in Burien. Like a Burien restaurant owner who called them about problems with transients living nearby. That kind of trust is deemed a success. Trust between the police and community is hard to come by, but easily shaken.

"The people will come to us and say 'what are you going to do as a police officer to protect me? You're not going to be at my house 24/7, you're not going to be around. So what am I supposed to do?'" Cueva said.

That shooting of Eddie Plata Jr was a retaliatory shooting as two gangs were feuding, which presents an uphill battle for Cueva and Marquez to get cooperation from witnesses.

"I don't think it's a secret where people believe if they snitch on someone something is going to happen. So it's important to let them know the steps that we take that we can hide their name. that's completely fine," said Marquez.

Building that trust with the Latino community isn't something Cueva and Marquez only do after violent crimes. Marquez works with kids from Evergreen High School where he went to school. He spends time reaching out to staff there and building programs for at-risk youth - the same youth gangs are trying to recruit.

"They don't have anyone else they can rely on and they're like shoot, that guy… they all speak Spanish. They have that family mentality. They can protect me because here you feel basically by yourself," said Marquez.

It's part of the reason why Marquez says the Alturas Apartments have long been considered a haven for Latino gangs.

"It was one of the bus stops when I was in elementary school. And every single one of them my friends would get off there and my mom would say, 'if you get off there boy, I swear!' So I was like 'OK,' and I would just stay on the bus," Marquez said.

Both Marquez and Cueva are trying to reach those kids in Alturas and other parts of Burien before the gangs do, hoping to convince them there's another option.

"There is a future and it's not just being a gang member. There's more," Cueva said.

Like a career in law enforcement especially now with dozens of openings between the King County Sheriff's Office and the Burien Police Department; a department that only has two Latino officers despite a growing Latino population.

"It's a great thing. We get to help out our community and we need more Spanish-speaking officers as well," said Marquez.

Marquez says another myth gang members tell new immigrants in Burien is that the police won't help them or will turn them into immigration enforcement if they report a crime. That's why Burien police chief Ted Boe has spoken out about the city's sanctuary status assuring immigrants his officers are there to protect and serve and not work as ICE agents.