Two King County deputies shot in Woodinville, one suspect dead
WOODINVILLE, Wash. - Two King County sheriff's deputies were shot and injured, and a suspect is dead after the two officers responded to a call for suspicious activity at an apartment complex in Woodinville Monday afternoon. 
King County Sheriff's Department said the shooting happened around 12:15 p.m. A Woodinville Fire spokesperson told Q13 that the two officers were shot at Beaumont Apartments on NE 183rd Street.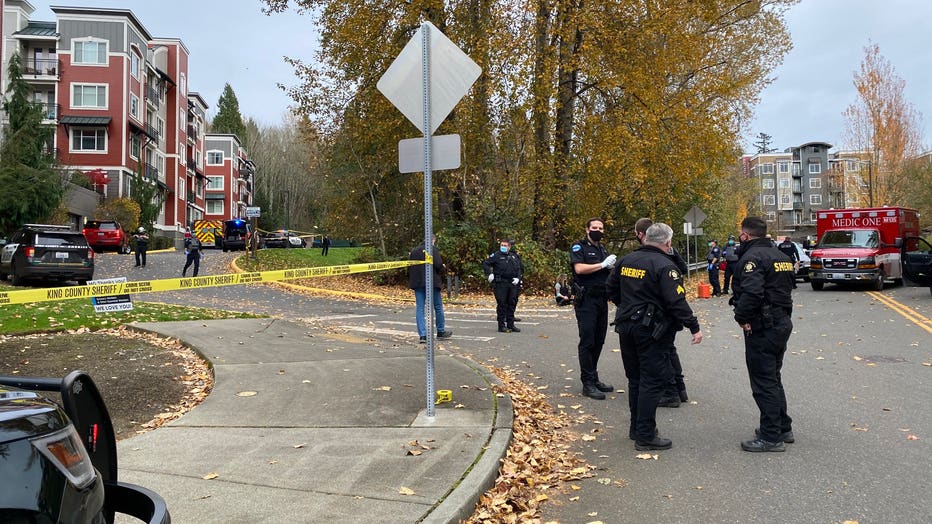 Photo of shooting scene courtesy Woodinville Fire
Officials said the two deputies responded to a call of a person reportedly breaking into cars at the complex. The deputies confronted the suspect who was carrying a case and shortly after, gunfire was exchanged between deputies and the suspect.
Officials initially said one of the deputies was in critical condition, but the King County Sheriff's Office later clarified on Twitter that both of the deputies suffered serious - but not life-threatening - injuries.
One of the deputies, a 55-year-old man, was in satisfactory condition. Around 6 p.m. a spokesperson with HMC said he has since been released from the hospital. The other deputy was taken to EvergreenHealth Medical Center in Kirkland and was in stable condition pending discharge, according to a hospital spokesperson.
The suspect was killed at the scene. 
Police continued to keep their presence at the apartments late into the night.
"I was surprised because I moved here from Everett where this was pretty common, so moving to Woodinville I never thought this would happen. I work in Bothell so it's pretty quiet in Bothell as well, so I was really surprised that this would happen right here," said neighbor Bryan Hubbard.
"It's sad. Sad for whatever happened. I'm also sad for whoever was being comforted. Witnessed it. I'm sad that this happened in our neighborhood as well," said neighbor Jerome Jefferson.
The Seattle Police Department's Force Investigation Team is handling the criminal investigation, since deputies with the sheriff's office were involved.