TSA to delay allowing small knives on planes

WASHINGTON -- The Transportation Security Administration will temporarily delay a policy change that would have allowed passengers to carry small folding knives onto planes.


In a letter to TSA employees, TSA chief John Pistole said he decided to maintain, at least temporarily, the ban on knives on planes after a meeting Monday with an aviation security panel. The changes were scheduled to take effect Thursday.

Pisotle's letter did not say when he might reconsider easing the knife ban. TSA officials declined to comment.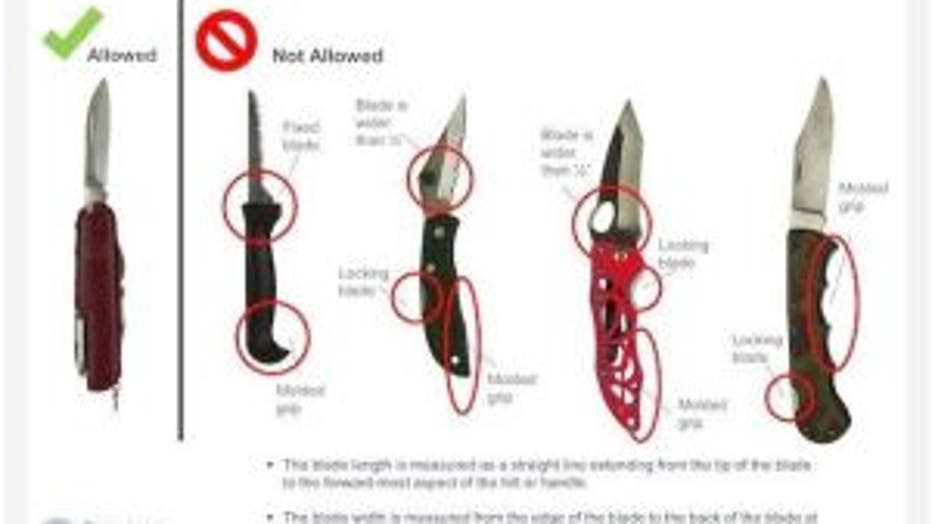 After meeting with a panel of aviation experts, he said, "so we can incorporate their input and to continue training requirements nationwide, I have decided to temporarily delay implementing the prohibited items changes."

The changes, announced last month, would have allowed passengers to carry folding knives with blades 2.36 inches or shorter and less than half an inch wide, as well as pool cues, ski poles, hockey sticks, lacrosse sticks, golf clubs and novelty-size bats.

Until further notice, the items remained banned from the cabin of commercial planes.

Since announcing the proposed change, Pistole has been under pressure from lawmakers, flight attendants and even the family of survivors of the 9/11 terrorist attacks to reconsider allowing knives on planes.

According to a survey of about 1,800 Americans released Monday, about 73% said they do not want knives allowed in airplane cabins.

Pistole has said the change would let TSA screeners spend more efforts looking for explosives and other serious threats.

In his letter, Pistole added that the bombing at the Boston Marathon underscored the need to focus on identifying explosives and other threats to the safety of aircraft.

--Hugo Martin, Los Angeles Times