Trying to scam folks over mudslide? 'We'll be waiting,' officials warn


EVERETT -- Be careful who you trust: That's what the U.S. Attorney's Office is telling families victimized by the Oso landslide.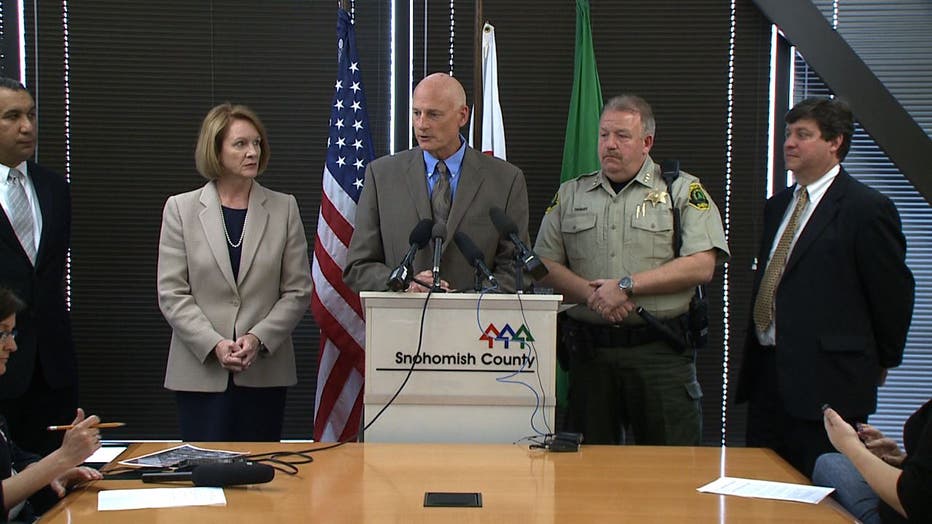 Snohomish County prosecutor Mark Roe (at lectern) and U.S. Attorney Jenny Durkan (L) warned Monday, April 21, of scams involving the Oso mudslide victims. (Photo: KCPQ-TV)


Natural disasters has brought out the best in our community, but it also means crooks aren't far behind looking for a big payday.

Reports of fraudulent fundraisers and phony relief organizations are popping up and now officials are vowing to prosecute anyone trying to make a buck off of the disaster in Oso.

Four weeks after one of the deadliest natural disaster in state history, officials are sounding the alarm.

"This is kind of a shot across the bow to anybody who would rip off anybody who have already lost so much," said Snohomish County prosecutor Mark Roe.

In nearby Arlington, flags are still flying at half-staff. Neighbors are still reeling from the heavy emotional toll, but worry scam artists are hiding in plain sight.

"I can't imagine there would be, but there are always people who want to take advantage," said resident Linda Williams.

Roe and U.S. Attorney Jenny Durkan are warning hucksters they'll throw the book at criminals.

"A Class B felony carries a standard range of only a few months in jail, but the statutory maximum is 10 years," said Roe. "We'll look for 10 years. If somebody rips these people off, a particularly vulnerable victim, they can expect that we will seek the harshest sentence possible."

Officials also worry strangers could pose as mudslide victims, trying to collect relief from charities or neighbors.

"Those people have suffered a tremendous amount. We will not stand by and let them be victimized by those who may take advantage of their suffering," said Durkan.

If people do want to donate money, the Justice Department suggests they should only donate to organizations that they know. People are also warned to be skeptical when sending donations through email or social network websites, and avoid sending cash or donations through money transfer services.

Officials vow a zero-tolerance policy toward any abuse. They want to make sure any relief funds goes to those who need it the most.

"If you try to rip these people off and use their heartache to make a buck, we'll be waiting," said Roe. "We'll seek those exceptional sentences because those people could not be more vulnerable than they are and they've suffered enough."

If you think you've been scammed, the feds want to hear from you. Call the National Disaster Fraud hotline at 866-720-5721.