Truck may have brought down I-5 bridge over Washington river; only 3 injuries


[trib_ndn vid=24840940 site_section=dash]



[trib_ndn vid=24841213]

MOUNT VERNON, Wash. -- A portion of an Interstate 5 bridge over the Skagit River, about 60 miles north of Seattle, collapsed Thursday, sending three vehicles and people plunging into the cold water at least 50 -feet below.

When rescuers arrived, people were sitting on top of their submerged cars. The water is about 18 feet deep where the bridge collapse took place.

Amazingly, there were no fatalities, Skagit County authorities said. Three people were pulled from the river and taken to Skagit Valley Hospital and United General Hospital; two were reported to be in stable condition, the other had minor injuries and was being released Thursday night.

The victims, 48-year-old Daniel Sligh, his wife Sallettee Sligh, 56, and 20-year-old Bryce Kenning, managed to survive the incident with only minor injuries.

The driver of the semi was identified as 42-year-old William Scott of Alberta, Canada.

This section of I-5 runs between the Washington cities of Burlington and Mount Vernon. Preliminary reports showed an over-sized truck hitting the bridge was the initial cause for the collapse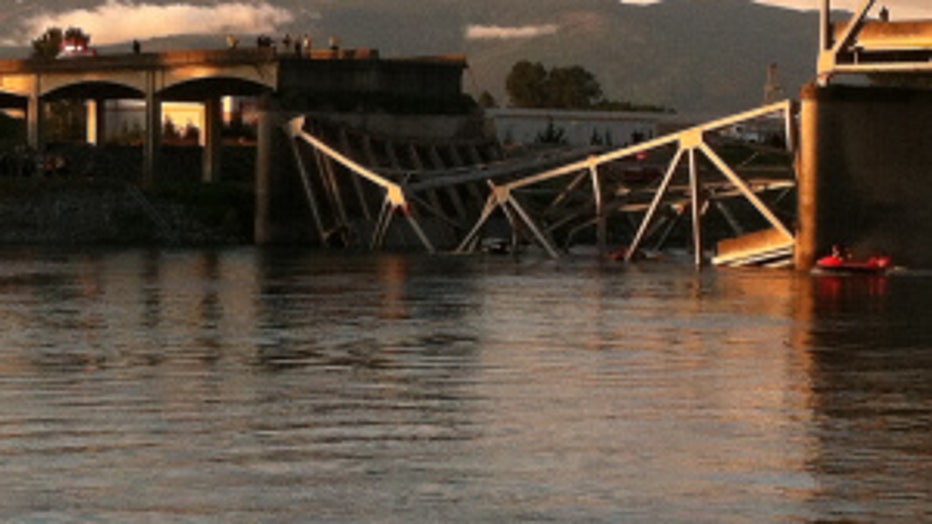 " I just heard back from our state bridge engineer who said an over-sized load struck the bridge, and that was the cause of the collapse,"  said Bart Treece, an official with the Washington State Department of Transportation.

A large semitrailer was seen parked on the side of the road north of the bridge, but it was unclear if that was the truck that might have struck the bridge. The semi driver was investigated by Washington State Patrol troopers. The company that owned the semi said they had a working permit to cross the bridge with an over-sized load.

Both the northbound and southbound lanes of the northern section of the bridge collapsed at about 7 p.m.

Inslee later told a news conference that repairing the bridge is "job No. 1" and that it's unknown how long it will take to replace the bridge. I-5 is a main north-south arterial for northwestern Washington state. He authorized the Transportation Department to establish detour routes to minimize impact on traffic and commerce.

"Witnesses say a truck hit the bridge and caused it to collapse, but an investigation has been launched to confirm that," Inslee said. "Any witnesses or people with information should contact the State Patrol.



[trib_ndn vid=24840873 site_section=dash]

The NTSB arrived on the scene Friday to evaluate the damage.

Goskagit.com said one driver who had just crossed the bridge shortly before it collapsed told a reporter he felt a vibration and looked in his rear view mirror to see that the section of bridge he had just crossed was no longer behind him.

"I thought something was wrong with my car at first," the man told the reporter about feeling the vibration.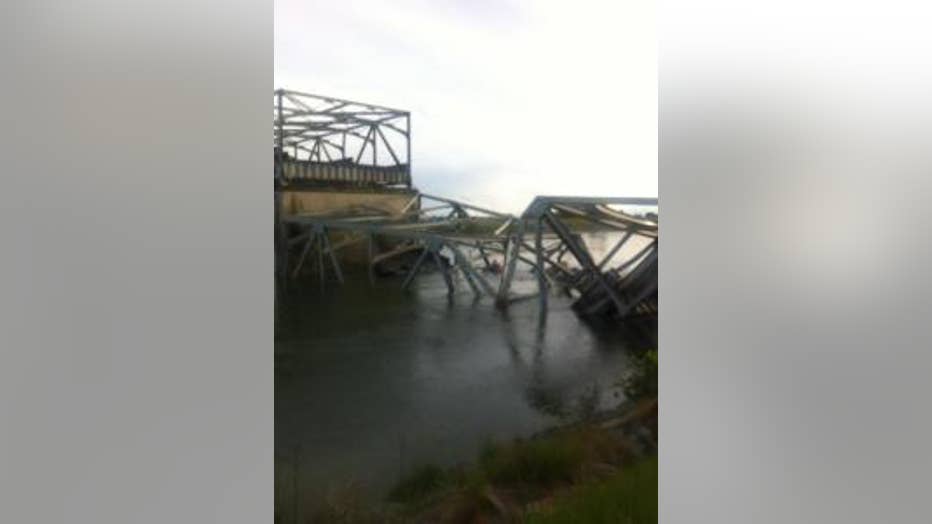 Photo: Jacob O'Reilly/Twitter


The bridge was built in 1955, was inspected last November and it received passing grades, Treece said.

Mount Vernon Christian Schools canceled class for all students on Friday.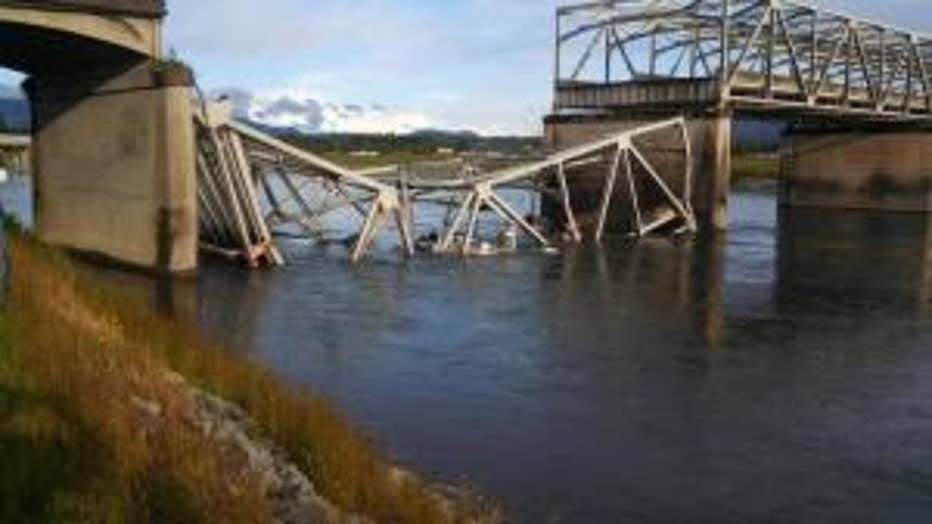 The I-5 bridge over the Skagit River collapsed Thursday. (Photo: Dusty Starling/twitter)