Troopers take down WMW fugitive accused of pulling knife on UW Bookstore security, Michael Molitor -- in stolen car
FUGITIVE CAPTURED May 28, 2013 -- The King County Sheriff's Office says Washington State Patrol arrested Michael Molitor in a stolen car. FUGITIVE WANTED IN KING COUNTY April 12, 2013 -- This guy is definitely not the customer the University of Washington Bookstore wants to have. Convicted felon, Michael Molitor, is an accused armed robber who pulled a knife on bookstore security -- after getting snagged trying to steal computer software. "This case goes to show you how things can elevate," says King County Sgt. Cindi West. "Molitor goes into a bookstore, steals about a $300 'Windows' program. Thinks he's pretty sly, puts it under his shirt. What he doesn't realize is that loss prevention's already watching him. In fact, as he started heading to the door, one of the loss prevention officers walked out the door in front, and as soon as he came out she confronted him about the stolen item." He immediately pulled a knife on her and said 'don't touch me'. Smartly, security backed off. He took off running and was later apprehended. But he did this all over a $300 'Windows' program." Molitor is wanted for that armed store robbery in King County, and also by the Department of Corrections for escape in King County. His rap sheet includes several assaults, a bunch of domestic violence, burglary, drugs, drunk driving, and more. Here are the details on MICHAEL MOLITOR: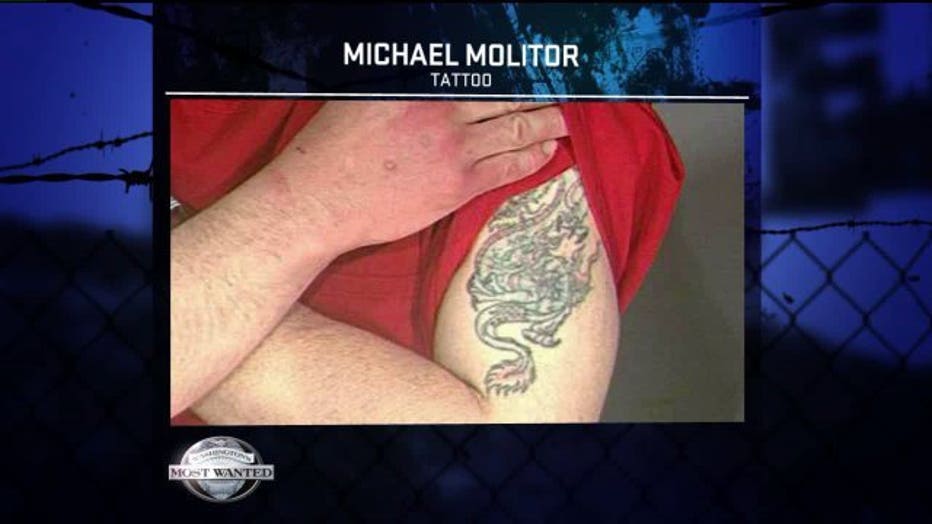 He's inked with a tattoo in his left arm, of what looks like a big Chinese dragon. If you know where deputies in King County can find this big-time felon who's now wanted for armed robbery, call an anonymous tip into: CRIME STOPPERS: 1-800-222-TIPS You must call the Crime Stoppers hotline with your tip to be eligible to receive a cash reward for information leading to a fugitive's arrest. CLICK HERE for information on how to TEXT A TIP to Crime Stoppers.