Triple threat of freezing rain, snow and wind before drying out for New Year's Eve


SEATTLE -- Another round of wet weather pushes across Washington state before it dries out in time for the Seahawks final regular season game and New Year's Eve.

This latest system moved in overnight to the lowlands of Western Washington packing a big punch and warmer conditions for most, expect folks in Whatcom County who woke up to temperatures in the low to mid 30s.

Another element to our forecast is the wind kicking up later tonight out of the south. We'll see sustained winds 15-30 mph with gusts about 45 mph.  Along the coast the winds will be stronger at 45 mph sustained with gusts reach 50+ mph.  Because of the high wind forecast the National Weather Service has issued a High Wind Watch.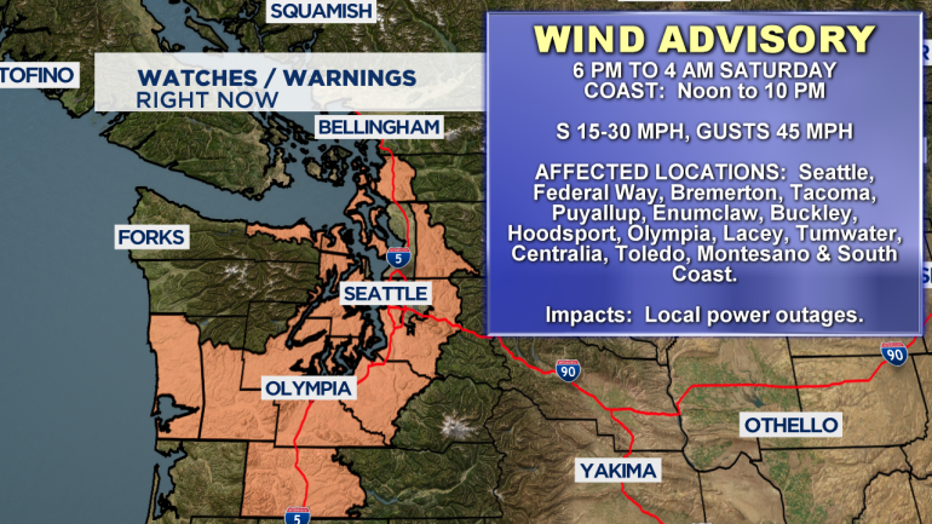 Some areas affected: Seattle, Federal Way, Bremerton,  Tacoma, Puyallup, Enumclaw, Buckley, Hoodsport, Olympia, Lacey,  Tumwater, Centralia, and Toledo and Montesano.

Timing: Increasing tonight then easing early Saturday morning.

Impact: Winds this strong can break small branches off trees  and cause local power outages.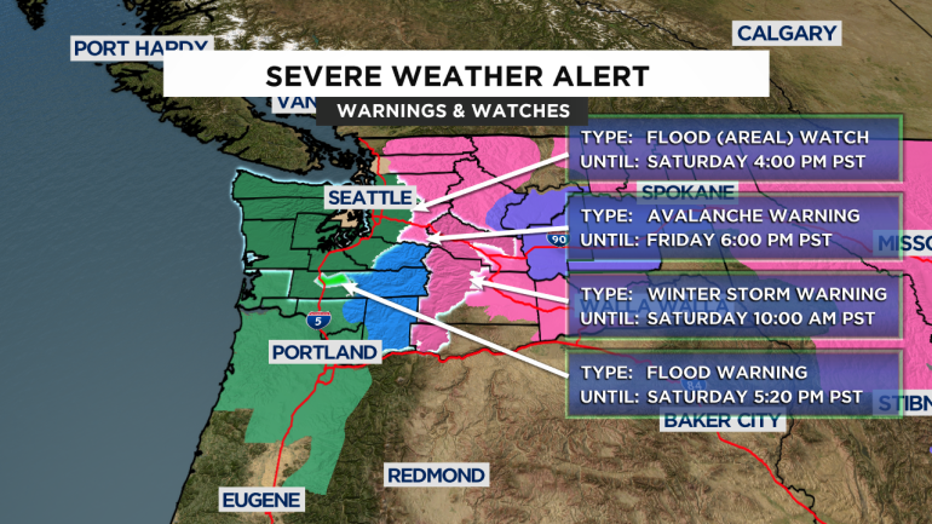 And for the mountains and Eastern Washington a WINTER STORM WARNING in effect through 6pm tonight & AVALANCHE WARNING in effect through Saturday at 10 a.m. Expect heavy snow at times which may cause delays or closures on the passes. The mountains will see about 4-8 inches later today. This will create some problems up there for the next 18-hours. Be prepared there could be some closures on I-90 and US 2.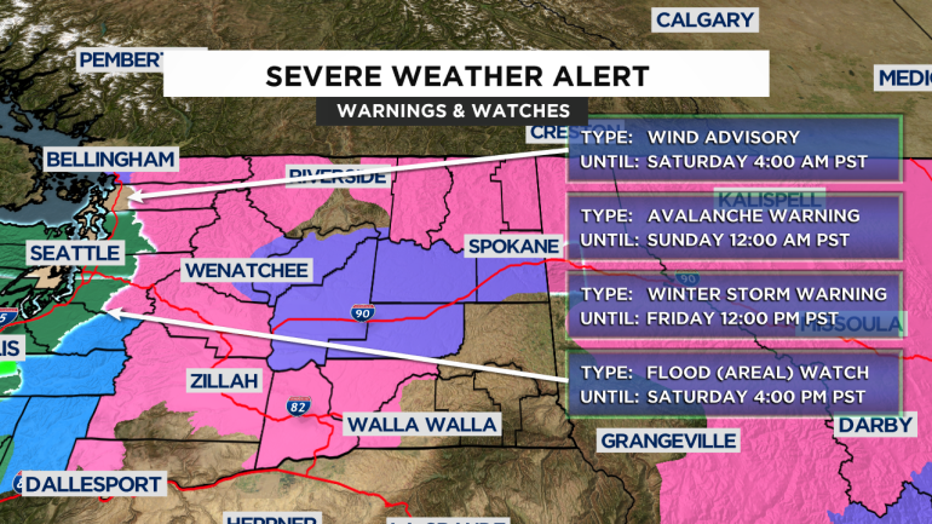 Significant icing may occur in for Eastern Washington.  Ice will result in difficult travel conditions.  Icy roads will make for hazardous driving conditions throughout much of the eastern half of our state to further east Idaho and Montana.

The week ahead

Today: Rainy, wet and windy conditions at times.  Winds will kick up later this evening around 6pm.  Highs jump to near 50 with lows falling back into the upper 30s to low 40s.

Saturday: Mostly cloudy with a chance of showers. Highs land right where we should be for this time of year at 45 degrees.  Lows drop off a bit into the mid to upper 30s.

Sunday: We dry out for partly to mostly sunny skies. Highs in the mid 40s with lows a little colder in the low to mid 30s.  *The Seahawks host the Cardinals at CenturyLink Field.  Kick off set for 1:25pm right here on #Q13Fox.  Game time temps should sit in the low to mid 40s.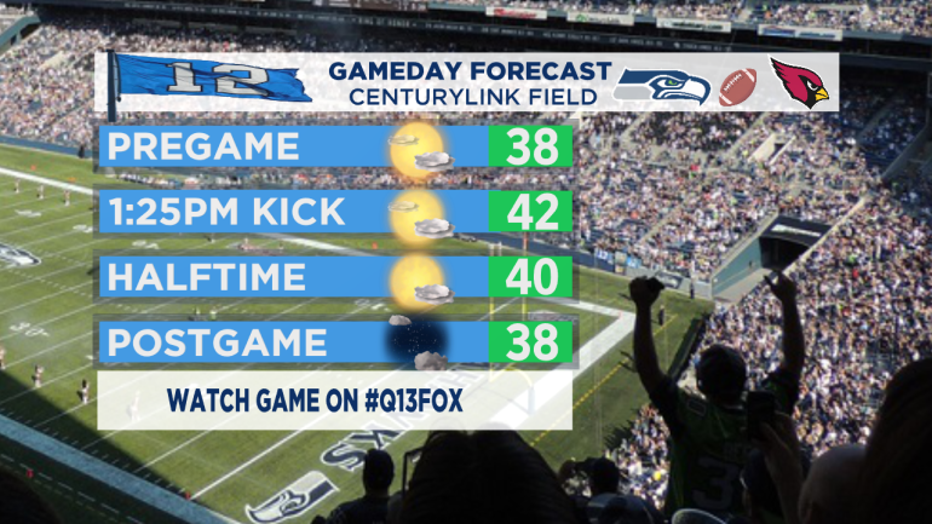 New Year's Eve: Going for a dry fireworks show with temps not bad sitting in the upper 30s, although, clouds will increase throughout the night, but around 12am for the big show mainly high, thin clouds around the Space Needle.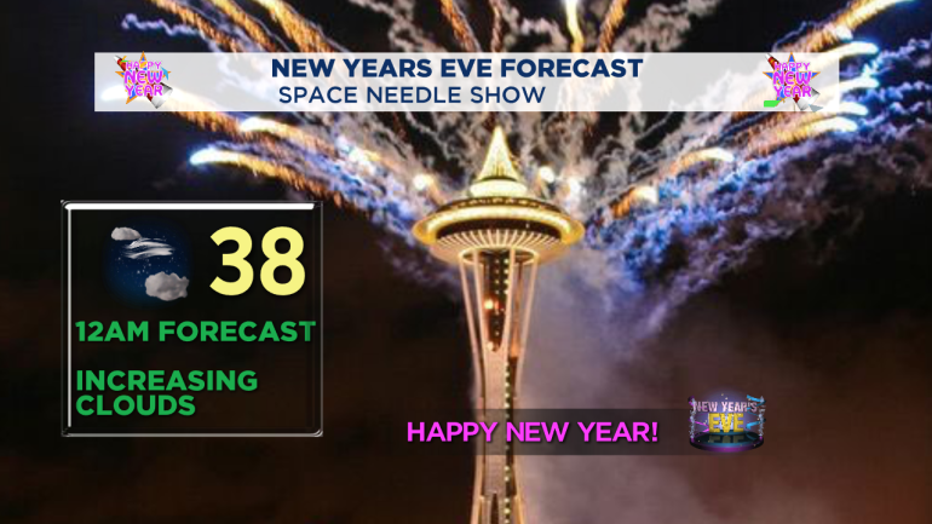 New Year's Day: Partly cloudy as we start the first day of 2018!  Highs in the mid 40s.  Overnights fall back into the low 30s.

Tuesday - Thursday:  Partly cloudy with a slight chance of showers each day. Highs a bit cooler in the low 40s.  Lows a few degrees above freezing in the mid 30s.

Happy New Year all!