'Tricky' forecast calls for rain-snow mix in Southern lowlands, more snow up north


SEATTLE -- Another winter storm will hit western Washington today, but the "tricky" forecast is changing, with less snow likely for Seattle and areas south of Seattle, and more snow expected to the north and east.

The next system will arrive around midday Monday, dumping a quick 1-4 inches around Seattle and the South Sound before likely changing to rain. It could warm up enough to bring only rain, with no freezing rain or sleet, according to the National Weather Service.

Q13 morning meteorologist M.J. McDermott says if the temperatures do drop and the snow turns to freezing rain, road conditions could be more dangerous than a snow-only event.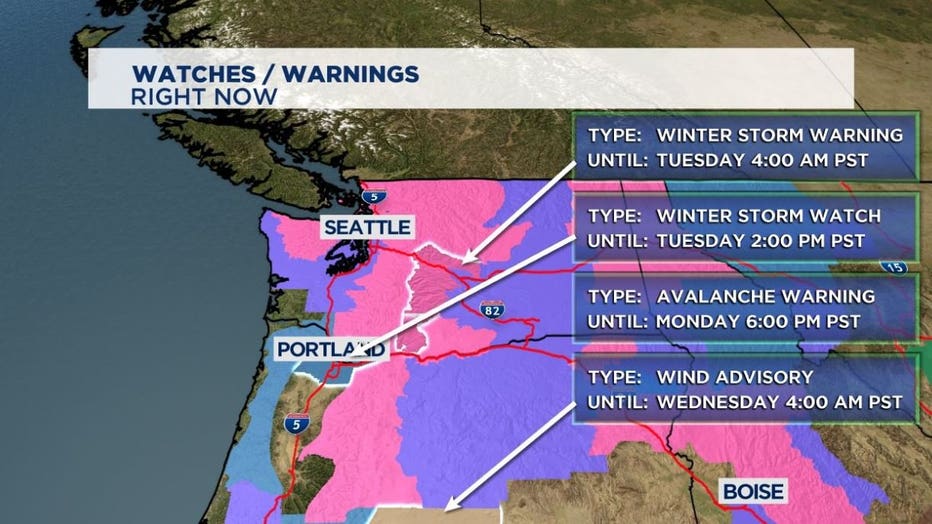 Areas north of the King-Snohomish County line, the East Puget Sound Lowlands, and the mountains are likely to see a lot more snow.

Q13 Chief Meteorologist Walter Kelley calls this storm a "1-20-inch" scenario, as in 1 inch for Chehalis and 20 inches for Darrington.

Walter says less snow for Tacoma and Seattle because the temperatures will be slightly above freezing -- and lots for areas north of Everett.




The mountain passes will get a ton of new snow this week. Walter says it's likely they'll see 50 inches or more. Expect intermittent pass closures throughout the week.

Most areas in western Washington will pick up at least a few more inches of snow, if not more.

Be ready for a messy Monday and Tuesday.

Tuesday night will have less snow, but snow showers could stick around into Wednesday morning.

Wednesday afternoon looks dry. Thursday looks mostly dry, but another round of snow/freezing rain/rain mixed with snow heads in. Friday looks like another round of snow, but it does look like most will be above 500 feet, so more in the hills and foothills than in Seattle.

Saturday looks snowy again, especially for the foothills.

See viewer-submitted photos from western Washington's last two snowstorms below:



Q13 Weather Resources