Transit may have been slow, but crowds got in, out of downtown


SEATTLE -- Whether by train, ferry or bus, passengers had a tough time getting into downtown Seattle for Wednesday's parade and rally -- and the commute home was just as busy with an estimated crowd of 700,000.

Passengers reported major issues getting onto the Link Light Rail train at the Beacon Hill station as each train that pulled through was crammed with people.  Trains have been running every 6 minutes all day.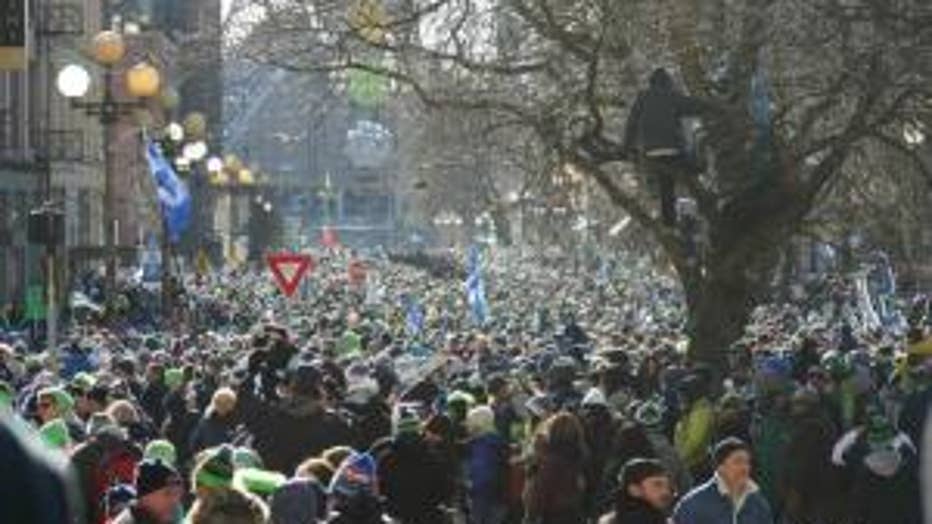 The Sounder train out of Tacoma also had issues this morning.  The 8:25 a.m. train was completely full and could not stop in Puyallup even though a huge crowd there had bought tickets. The Sounder Northline will have extra cars on its 4:05 and 4:33 departures today.  Heading south, there will be an extra train leaving the king street station at 6:30.

Ferries had record numbers as well, with an estimated 20,000 on board from Bremerton and Bainbridge Island where there were 1 to 2 vessel back-ups.  In Bainbridge, cars lined up all the way to Poulsbo for that crossing.

King County Metro has all buses and drivers on the road.

Here is more information from King County Metro:

To depart Downtown Seattle, take any southbound train or 41, 101, 106, or 150 bus in the downtown Seattle Transit Tunnel to Stadium Station and board your regular bus at S Royal Brougham Way.

Link: Link will operate about every seven and half minutes throughout the day.

Sounder:


Please allow additional time when traveling to or from downtown Seattle. Sound transit will try to resume regular service as soon after the parade as possible. No exact time is available for when 4th avenue will reopen for transit. Sign up for route-specific rider alerts sent by email or text message at soundtransit.org/subscribe

The Seahawks Victory Parade is over and many, many people are looking to leave downtown Seattle. If you are not staying for the rally, we encourage you to take an early bus out of town to avoid the later congestion.

Here is the plan for community transit and sound transit service to Snohomish County.

Regular service


Extra service


It has been a long day for everyone, please be courteous as we do our best to get everyone home quickly and safely. Go hawks!

Very preliminary- but numbers say they had up to 20,000 "boardings" on the south and north line combined (this is round-trip. They do not have individual numbers on south line vs. North line.)

On a typical day- the south line has 11,500 boardings (King St. To Edmonds) and 900-1100 boardings per workday.   Being at crush capacity, they did have to turn people away- esp. On the south line. They added a round trip train on the south line and added a few extra cars onto the north line.  On the south line- they did offer a backup bus service.