Training for a 'shooter on campus' scenario at Buckley school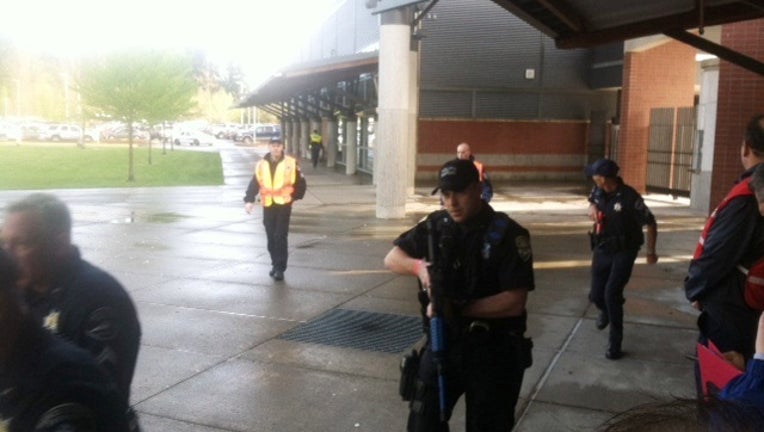 BUCKLEY, Wash. -- An active shooter training exercise recently took over White River High School in Buckley.

There were more than 1,000 participants in all, including students, who trained for a school's worst-case scenario.

It all started when shots rang out at 8:30 on Thursday morning. Active shooter training officially began with two shooters on the loose.



Communications between police departments could be heard on their radios with a 911 operator, also part of the exercise. One could be heard saying, "From what we know the shooter is wearing a blue shirt, unknown pants, fired three shots in the front office of the school's campus."

More than a dozen agencies participated, bringing more than 200 first-responders to this campus -- a massive training exercise pulled together by Pierce County Emergency Management, which has been planning this for a while.

Sheri Badger, the public information's officer for PCEM, said, "To do it right, it takes about a year to 18 months planning for an exercise."

And it's not just emergency responders training; it's students, too.

 

Andrea Entz, a senior at the high school, said, " I know it happens all the time in different places, so if it happens there, who knows if it's going to happen here?"

She played an injured person in the exercise, wanting to learn all that she could.

Entz said, "I saw a lot of different communication that they had to do. It wasn't just police do this and fire department do that. I had a policeman with me and then all of the sudden I had a fire department guy."

And that's no accident. In fact, it's a new way of training.

The agencies participating are some of the first in the nation to implement this kind of training.

It's called "warm zone" and it's where firefighters and law enforcement work together on the scene in a very different way.

John Delgado, who is with the Pierce County Sheriff's Department, explained, "When law enforcement responds to an active shooter-type situation, in the past the fire department wouldn't come in until the whole school was cleared, but now we're creating this 'warm zone' area where an area has been checked by law enforcement and then we're providing them a security team to come in and start treating casualties."

This new approach is a direct result of lessons learned in recent school shootings. While police were clearing the building, injured people weren't getting the help they needed as quickly. Badger said.

"While they were clearing them out, people were either dying from their injuries or their injuries became more severe because they weren't treated right away."

But training like this allows help to get to the injured faster and hopefully save more lives in a nightmare scenario.

The training was paid for by a U.S. Department of Homeland Security grant.